Malaysia freezes accounts of Najib's party
CORRUPTION PROBE: Prime Minister Mahathir was quoted as saying that Najib Razak would be 'brought to court soon' on charges including embezzlement and bribery
Malaysia yesterday said it has frozen bank accounts of the political party once led by former Malaysian prime minister Najib Razak as part of an investigation into alleged misappropriation from the state fund 1Malaysia Development Bhd (1MDB).
The United Malays National Organization (UMNO), which led a coalition that had governed the nation for more than 60 years until last month, is believed to have received funds from 1MDB when Najib was leading the party.
Malaysia last month reopened investigations into 1MDB after a shock election win by the opposition, led by veteran leader Mahathir Mohamad. His alliance has vowed to recoup money allegedly siphoned off from the fund.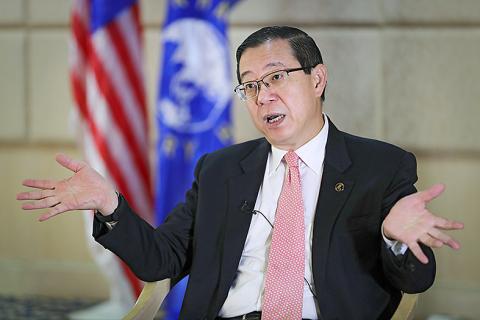 Malaysian Minister of Finance Lim Guan Eng speaks during an interview yesterday in Putrajaya, Malaysia.
Photo: AP
"The 1MDB task force confirms it has frozen a number of accounts owned by individuals and organizations, including UMNO and other political parties believed to be involved in the misappropriation of 1MDB funds," the task force said in a statement.
UMNO did not immediately respond to requests for comment.
The freezing of the accounts has raised more questions about the fate of UMNO, which has been the party of all but one of Malaysia's prime ministers.
Several UMNO lawmakers have quit the party since the election and it has also been abandoned by most of its coalition partners.
The party is set to hold an election for party president today, after Najib stepped down as UMNO chief following the election defeat.
UMNO acting president Ahmad Zahid Hamidi was quoted by state news agency Bernama as saying he expected UMNO officials, including ones elected to party posts today, to be investigated by the Malaysian Anti-Corruption Commission.
UMNO was not the only political party to have received 1MDB funds, Malaysian Minister of Finance Lim Guan Eng (林冠英) told reporters this month.
More than US$4.5 billion was misappropriated from 1MDB and nearly US$700 million from the fund was diverted into Najib's personal bank accounts, US authorities say.
Najib, in an interview with reporters last week, said that the US$700 million was a donation from a member of the Saudi Arabian royal family. He did not identify the donor.
Police this week said that nearly US$275 million worth of jewelery, handbags, watches and other items were found at premises linked to Najib and his family. Authorities also found about US$29 million in cash.
Najib has said the money was for election purposes and that it came from "genuine donations."
Meanwhile, Mahathir, now the prime minister, has said that Malaysia is looking to bring a range of charges against Najib, including embezzlement and bribery.
Late on Thursday, the Bernama news agency cited Mahathir as saying that Najib would be prosecuted soon.
"I think he will be brought to the court soon," he said.
Comments will be moderated. Keep comments relevant to the article. Remarks containing abusive and obscene language, personal attacks of any kind or promotion will be removed and the user banned. Final decision will be at the discretion of the Taipei Times.