Mattis vows 'defensive stance'
WIGGLE ROOM: The US defense secretary assured Japan of their alliance, saying that Trump's decision to halt exercises was 'to create space for our diplomats to negotiate'
US Secretary of Defense James Mattis yesterday pledged to maintain and strengthen the US' security alliance with Japan amid fears that talks with North Korea could water down Washington's longstanding security commitments in the region.
The US and its regional allies would maintain a "strong collaborative defensive stance" on North Korea, Mattis said, adding that Japan would remain a "cornerstone" of regional stability.
In meetings with Japanese officials, Mattis sought to address Tokyo's worries that its security interests could be left behind in US President Donald Trump's push to reach a denuclearization deal with North Korean leader Kim Jong-un.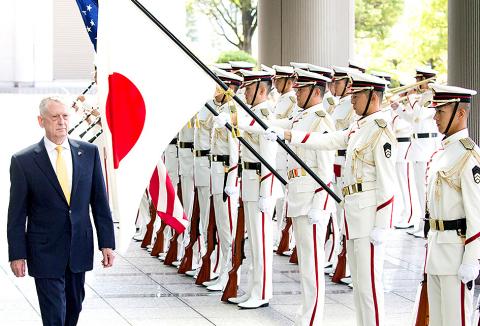 US Secretary of Defense James Mattis reviews an honor guard in Tokyo yesterday.
Photo: Reuters
"We're in the midst of very unprecedented negotiations right now with North Korea, but in this dynamic time, the longstanding alliance between Japan and the US stands firm," Mattis said next to Japanese Minister of Defense Itsunori Onodera.
Mattis said the decision to halt drills with allies in the region was taken "to create space for our diplomats to negotiate strongly and increase the prospect for a peaceful solution on the [Korean] Peninsula."
"At the same time, we maintain a strong collaborative defensive stance to ensure our diplomats continue to negotiate from a position of unquestioned strength," he said.
Onodera said the drills were "important for the stability of the region," but added that the decision to suspend them was valuable for diplomatic efforts to get Kim to give up his nuclear threat.
Tokyo and Seoul fear US negotiations are to focus on the intercontinental ballistic missiles that North Korea last year showed could reach US territory and potentially deliver a nuclear warhead, rather than shorter-range missiles.
Onodera called for Japan and the US to seek the dismantlement of all North Korea's weapons of mass destruction "and ballistic missiles of all ranges."
Mattis did not directly address that wish, saying only that both sides should work to ensure the diplomats doing the negotiations are "backed up by a very firm military instrument."
Underscoring the point, he presented a blue tie with a Pentagon motif to Onodera, telling him "to remember you have a friend in the Pentagon."
The two sides had discussed "opportunities to increase our alliance's capability, to deepen our cooperation," Mattis said without offering details.
The issue of Japanese kidnapped by North Korea was "a humanitarian issue always present in our deliberations," he added.
Mattis arrived in Tokyo from South Korea, where he also sought to tamp down worries that Washington would let down its guard as the denuclearization talks move ahead.
Even with the cancelation of the exercises, Washington would be "maintaining the current US force levels on the Korean Peninsula," he said, adding that the US-South Korea alliance is "ironclad."
Comments will be moderated. Keep comments relevant to the article. Remarks containing abusive and obscene language, personal attacks of any kind or promotion will be removed and the user banned. Final decision will be at the discretion of the Taipei Times.