Bali reopens airport following eruption
Bali yesterday opened its international airport after a volcanic eruption temporarily grounded flights, stranding thousands of tourists on the Indonesian island.
Ngurah Rai International Airport began operating at about 2:30pm, about 12 hours after it closed in response to Mount Agung belching smoke and ash.
A change in wind direction blew the ash away from the airport, allowing flights to resume, an airport official said.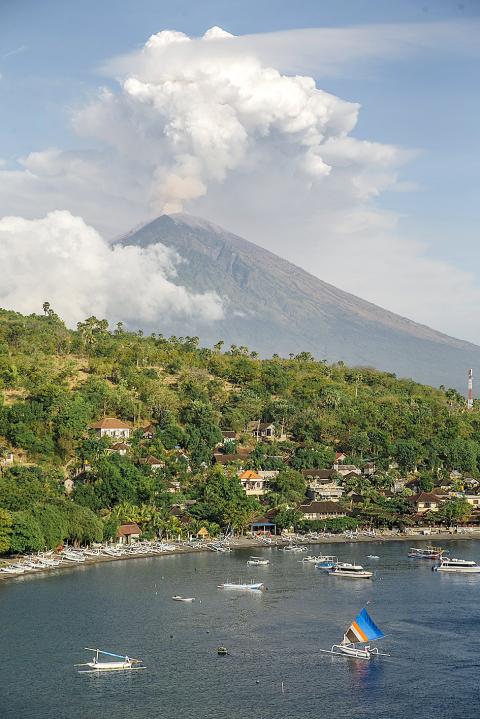 Mount Agung spews volcanic ash into the air yesterday in Bali, Indonesia.
Photo: EPA
"The airport will operate for 24 hours straight to get flights back on schedule," he added.
The early morning closure sparked the cancelation of more than 300 flights to and from the island, affecting nearly 27,000 passengers, the airport said.
About 400 residents living near the volcano — about 75km from Bali's tourist hub of Kuta — moved to evacuation centers.
All 375 Taiwanese on group tours in Bali are safe, the Tourism Bureau said.
Two Taiwanese tour groups, comprising a total of 23 travelers, have canceled their trips, the bureau said, adding that EVA Airways and China Airlines had to suspend all flights to and from Bali yesterday.
A striking orange-red glow could be seen at the top of Agung's crater after it shot plumes of thick smoke about 2,000m into the sky on Thursday evening.
Authorities closed the airport after a pilot flying overhead detected traces of volcanic ash as high as 7,000m.
Despite the eruption, Agung's status remained on alert level, the second-highest danger warning.
An eruption at Agung in November last year also stranded thousands and pounded Bali's lucrative tourism industry.
Agung has been erupting periodically since it rumbled back to life last year. Its last major eruption in 1963 killed about 1,600 people.
Additional reporting by CNA
Comments will be moderated. Keep comments relevant to the article. Remarks containing abusive and obscene language, personal attacks of any kind or promotion will be removed and the user banned. Final decision will be at the discretion of the Taipei Times.