Jackson 5 patriarch Joe Jackson dead at 89, family says
Joe Jackson, the father who created the Jackson 5 music family, died on Wednesday at 89, his family members said.
La Toya Jackson, one of his 11 children and also a pop singer, mourned her father and said she was "extremely appreciative" of him.
"I will always love you! You gave us strength, you made us one of the most famous families in the world," she wrote on Twitter as she posted a segment on Oprah Winfrey's television network in which she is having lunch with her father.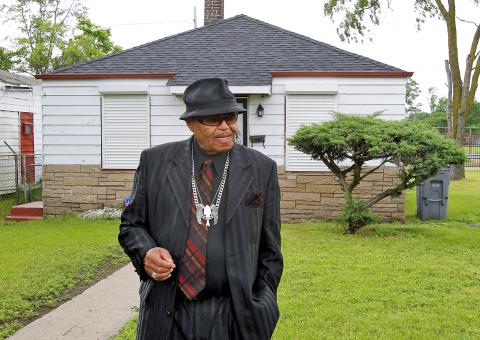 Joe Jackson give a tour of his family home in Gary, Indiana, on June 2, 2010.
Photo: AP
"RIP to the king that made everything possible!!! I love you grandpa," grandson Randy Jackson Jr tweeted.
Family representatives did not return requests for detail on his death, but entertainment sites TMZ and ET said Joe Jackson died in the morning in Los Angeles after a battle with cancer.
Joe Jackson himself hinted at his impending death in a tweet two days ago.
"I have seen more sunsets than I have left to see. The sun rises when the time comes and whether you like it or not the sun sets when the time comes," he wrote.
A strict disciplinarian father of 11 children, the steel worker in Gary, Indiana, became one of music history's most unlikely, but most successful managers as he created the Jackson 5 from his family.
His most famous child, Michael, would later break down in tears even as an adult when recalling his father beating him with his belt and, while publicly forgiving him, wrote him out of his will.
Comments will be moderated. Keep comments relevant to the article. Remarks containing abusive and obscene language, personal attacks of any kind or promotion will be removed and the user banned. Final decision will be at the discretion of the Taipei Times.