US Supreme Court faces vacancy
'HEIGHT OF HYPOCRISY': Mitch McConnell vowed to confirm a successor this fall, which Democrats are decrying given Republicans' refusal to OK a justice in 2016
US President Donald Trump on Wednesday secured a historic chance to shift the US Supreme Court decisively to the right as Justice Anthony Kennedy, the tie-breaking vote between the bench's liberal and conservative judges, announced he is to retire.
Kennedy's departure at the end of next month is to give Trump the opportunity to appoint his second justice to the nine-seat bench, which exerts a deep and far-reaching influence on US life.
"It has been the greatest honor and privilege to serve our nation in the federal judiciary for 43 years, 30 of those on the Supreme Court," Kennedy was quoted as saying in announcing his decision.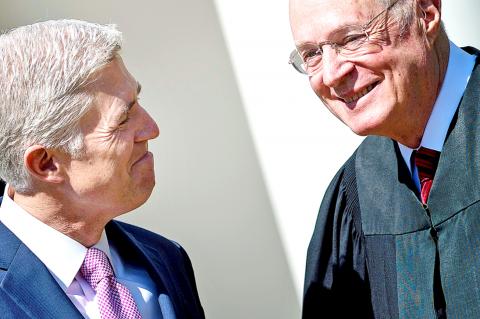 Neil Gorsuch, left, smiles at US Supreme Court Justice Anthony Kennedy before taking the oath to join the court in Washington on April 10 last year.
Photo: AFP
Nominated by then-US president Ronald Reagan, the 81-year-old Kennedy took his oath of office in 1988. He said he is stepping aside to spend more time with his family.
Paying tribute to Kennedy as "a great justice of the Supreme Court," Trump told reporters the replacement process would "begin immediately."
"Hopefully, we will pick someone who is just as outstanding," he told reporters in the Oval Office.
He said Kennedy's successor — who like all Supreme Court justices would be appointed for life — would be selected from among a list of 25 possible candidates, 20 identified during his presidential campaign and five added since.
"We have a very excellent list of great, talented, highly intelligent, hopefully tremendous people," he said.
At a rally in North Dakota later on Wednesday, Trump described Kennedy as a "great man" who trusted him to pick his successor.
"I'm very honored that he chose to do it during my term in office, because he felt confident in me to make the right choice and carry on his great legacy, that's why he did it," Trump said.
Kennedy's departure sets the stage for a brutal battle over his succession, a blueprint for which was established by Republican lawmakers in 2016 when they denied then-US president Barack Obama the opportunity to fill the seat left vacant following the death of conservative justice Antonin Scalia.
Democrats are now arguing that Trump's pick should not be put to a vote until after new legislators are elected in midterm polls this fall.
"Millions of people are just months away from determining the senators who should vote to confirm or reject the president's nominee and their voices deserve to be heard," said US Senator Chuck Schumer, the top Democrat in the Senate. "Anything but that would be the absolute height of hypocrisy."
However, Republican Senate Majority Leader Mitch McConnell said: "We will vote to confirm Justice Kennedy's successor this fall."
Kennedy's vote, positioned at the center of the court, gave him a place of special prominence among the nine justices.
He has cast the deciding vote in a number of historic cases, including the court's groundbreaking decision in 2015 legalizing gay marriage, a five-to-four decision for which he wrote the opinion.
For years, Kennedy infuriated conservatives with decisions striking down prayer at public-school graduations and upholding abortion rights — and exasperated liberals with decisions on affirmative action and campaign finance laws.
His departure gives Trump his second Supreme Court pick since arriving at the White House, following the nomination of Neil Gorsuch, and could spell a decisive shift to the right for the top judicial body.
With Republicans controlling both the Senate and the House of Representatives, the Democrats have limited leverage to push back over Trump's second pick for the court, the final arbiter on such divisive issues as gun rights or abortion.
Control over Supreme Court nominations has become a hot-button issue for the US electorate, with 70 percent of respondents in a 2016 CNN poll saying it was an important factor in their vote.
Comments will be moderated. Keep comments relevant to the article. Remarks containing abusive and obscene language, personal attacks of any kind or promotion will be removed and the user banned. Final decision will be at the discretion of the Taipei Times.