Car dealers gear up for female Saudi drivers
ECONOMY BOOST: One woman said that she is excited to learn to drive so that she can test-drive the vehicles she has been selling to customers
Cradling her four-month-old daughter, Nour Obeid scans the car showroom and heads to the mid-sized SUVs.
In the past, a woman looking to buy a car in Saudi Arabia would focus on the features in the back, but Obeid is checking out the driver's seat, picturing herself doing grocery store runs or school drop-offs.
Today, the kingdom lifts the world's only ban on women driving, a milestone for women who have had to rely on drivers, male relatives, taxis and ride-hailing services to get to work, go shopping and get around.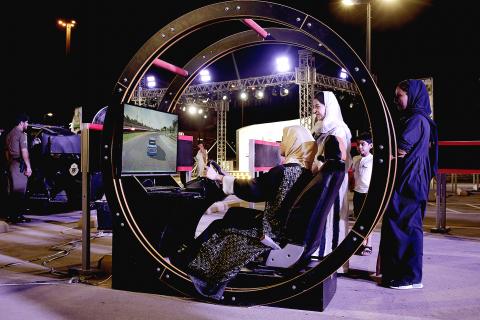 A woman tests a driving simulator at a road safety event on Friday for female drivers launched at the Riyadh Park Mall in Saudi Arabia.
Photo: AP
The move could help boost the Saudi economy by ensuring stronger female participation in the workforce, meaning increased household incomes.
Car companies also see an opportunity in the country of 20 million people, half of them female. Ahead of the ban being lifted, they have put Saudi saleswomen on showroom floors and targeted potential new drivers with advertising and social media marketing.
Earlier this year, Ford sponsored a driving experience specifically for women in the city of Jeddah.
Saudi Arabia is the largest automobile market in the Middle East, with at least 405,000 cars expected to be sold this year. That is down significantly from a few years ago, and the cost of buying a new car has gone up with the introduction of a value-added tax.
Still, car sales are expected to increase between 6 and 10 percent once women start driving, the chairman of the national committee for cars at the Council of Saudi Chambers told the Saudi Gazette.
The government recently began allowing women to sell cars as well. Sales jobs had previously been reserved for men in the highly conservative country, where unrelated men and women cannot freely mix.
Earlier this month, Saudi Arabia issued its first driver's licenses to 10 women who already had licenses from other countries. Since then, dozens more have been licensed, but none can drive until the ban is officially lifted.
Nourah Almehaize started selling cars for the first time two months ago, but had already worked for six years in a call center handling queries about vehicles.
She said she is eager to learn how to drive so that she can test-drive the Ford Explorer and Edge she has been selling to customers, but her husband is telling her to wait.
"He is telling me not to [drive right away], to postpone it for a year until we see what it will be like, but I will apply anyways," she said. "Currently, I have a driver. After a year I may not need him if I've had enough practice and I'm comfortable."
Uzma Chohan, 38, has never driven and relies on a driver or her husband to go places. She prefers to run errands with her husband, which means waiting until he is back from work in the evening or until the weekend.
The couple from Pakistan, who have two boys, has lived in Saudi Arabia for the past 17 years.
They are looking at larger SUVs for the family, but she will not be driving just yet.
"In the beginning years, like to two and three, I'm a little scared about the people. Some naughty guys, you know, but after two years, after one year, it becomes normal, inshallah [God willing]," she said.
Meanwhile, Obeid, who already has a driver's license from Jordan, plans to obtain a Saudi license when she is back from traveling abroad this summer.
"Me personally, it's what the car looks like that's important to me. Then I ask my husband about the specs so he takes a look at it to see what it's like and if it's durable," she said.
Her husband, Mustafa Radwan, is encouraging her to drive and says he would feel safer knowing that she and their two children do not need to rely on ride-hailing services.
He is optimistic and hopeful that Saudi men will be courteous to female drivers on the road, he said.
"It's different than what people expect. Myself as a man, or any man, when he sees a woman, he'll give her the priority and give her the right of way to drive, and protect her. Maybe it's in the culture," Radwan said.
Not sounding as convinced, Obeid said: "I wish there were more men like you."
Comments will be moderated. Keep comments relevant to the article. Remarks containing abusive and obscene language, personal attacks of any kind or promotion will be removed and the user banned. Final decision will be at the discretion of the Taipei Times.