Spanish protests after abuse gang released
Protesters on Thursday took to the streets in Spain after a court ordered the release on bail of five men sentenced to nine years in prison for sexually abusing a young woman at Pamplona's bull-running festival.
The men, who called themselves "the pack" in a WhatsApp messaging group, had been accused of raping a woman, then 18, at the entrance to an apartment building in Pamplona on July 7, 2016, at the start of the week-long San Fermin festival, which draws tens of thousands of visitors.
All five were convicted of sexual abuse in April, but were acquitted of the more serious crime of sexual assault, which includes rape, as the court did not consider that the victim had been subjected to intimidation or violence, sparking nationwide protests to demand that the law be changed.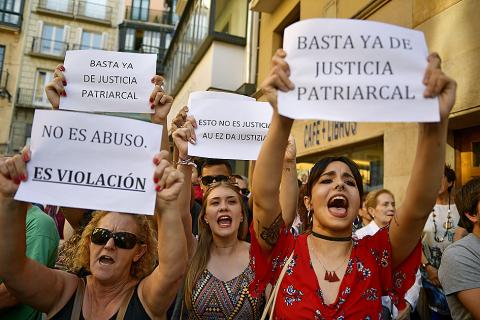 People hold up signs reading: "It is not an abuse. It's rape," left, and "Enough of patriarchal justice" at a protest against a sexual abuse sentence in Pamplona, Spain, on Thursday.
Photo: AP
They appealed their jail terms and a Pamplona court on Thursday ordered that the five men be released on bail of 6,000 euros (US$6,992) pending the outcome of an appeal, Spanish media reported.
The court was to publish its decision yesterday, a spokesman said without giving details.
Women's rights groups immediately took to social media to call for protests on Thursday night with the slogan: "If the pack hits the streets, we will as well."
About 1,000 people marched in Pamplona, some shouting "Enough macho violence," and there where also rallies in neighboring Basque cities Bilbao, Vitoria and San Sebastian.
Hundreds also marched in Barcelona, some holding a banner that read: "In the face of patriarchal justice, feminist self-defense."
"It is a shame, these scoundrel rapists get away so easily. It seems they want to release them so they are ready to start again on July 7, the day of San Fermin," 66-year-old protester Carmen Roman said.
Another protest was scheduled to take place yesterday evening outside of the Spanish Ministry of Justice in Madrid, as well as in the southwestern city of Seville, the hometown of the five men, and other cities.
Prosecutors had asked for each of the men, who have been in custody since 2016, to be jailed for 22 years and 10 months.
One of the accused is a Guardia Civil police officer — currently suspended — and another was once in the army.
Several are "ultras" who support soccer team Sevilla.
Comments will be moderated. Keep comments relevant to the article. Remarks containing abusive and obscene language, personal attacks of any kind or promotion will be removed and the user banned. Final decision will be at the discretion of the Taipei Times.