South Korea pauses to watch summit
SCREENTIME: From the presidential office to the Seoul Station, people briefly stopped to watch footage of the leaders of the US and North Korea shaking hands
As North Korean leader Kim Jong-un and US President Donald Trump yesterday shook hands at a historic summit in Singapore, South Koreans stopped in their tracks to watch the event unfurl on live television.
"I was at work and secretly watching the feed, but I don't think I was alone watching it," said Hahm Ha-neul, a 29-year-old working for a state-run company.
"We have a group chat [at work] and we tell each other how we want dialogue with North Korea to go well and how it'd be nice to go up there someday to eat naengmyeon," she said, referring to North Korean-style cold noodles.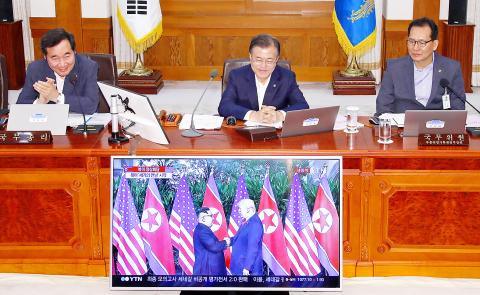 South Korean President Moon Jae-in, top center, watches the start of the US-North Korean summit in Singapore yesterday on a TV screen before the start of a weekly Cabinet meeting at the presidential Blue House in Seoul.
Photo: AP / Yonhap
Cha Min-song, a hospital nurse working in Suwon, south of Seoul, said she and her coworkers all stopped working briefly to watch Kim and Trump shake hands.
"Today's event was even more dramatic because it was cancelled briefly. I wasn't really thinking of it early this morning, but I found myself searching for news as it got closer to 10am," she said.
South Koreans have been largely supportive of the summit since it was announced, with a poll in April showing the border village of Panmunjom as their top preference for the venue.
People at the Seoul Railway Station watch a TV screen showing a South Korean news program about US President Donald Trump meeting North Korean leader Kim Jong-un in Singapore.
Photo: AP
Kim and South Korean President Moon Jae-in held their summit in late April in Panmunjom.
Moon, who watched the live broadcast with other officials before a Cabinet meeting in his presidential office, said he had "hardly slept" before the summit.
"Leaving dark days of war and conflict behind, we will write a new chapter of peace and cooperation," Moon said in a statement released yesterday afternoon by his office. "We will be there together with North Korea along the way."
According to South Korean pollster Realmeter, 38.7 percent of 501 respondents surveyed said Panmunjom would be the best choice with South Korea's island of Jeju coming in second at 14.4 percent. Singapore trailed in 7th place with 4.7 percent.
"In the end, I don't think where they held the summit was important. From Kim Jong-un's point of view, Singapore may have been a riskier location than somewhere in South Korea and seeing that, I think he really wanted to talk," said Park Gun-woo, a 24-year-old university student in Seoul.
Park said he managed to watch some of the summit before taking an exam.
Kim Woo-seong, a 48-year-old businessman who stopped at a television screen at Seoul Railway Station to catch a glimpse of the two leaders before traveling to his hometown, agreed that the location was not crucial.
"There was no specific reason for the summit to be held at Panmunjom. If the two leaders can lead a great talk, wherever they want is all right," he said.
South Koreans' general interest in the North has also spiked recently, with sales of books on North Korea from January through Sunday exceeding sales of similar books from 2015 through last year combined, according to Yes24, the country's biggest online book retailer.
The nation's largest online restaurant guide, Siksin, launched a separate section on its Web site for venues in North Korea this week in light of improving relations with the South.
Despite the excitement many expressed about watching Trump and Kim on television, some South Koreans voiced doubts and indifference regarding yesterday's summit.
"Peace isn't bad but I didn't have that much of an interest because I was busy working," said Maeng Yeong-hwan, a 32-year-old office worker in Seoul, noting he had more of an interest in the World Cup.
Noh Jung, a 27 hospital administrator in Seoul, said she had low expectations for the summit.
"Trump and Kim met because they both want something from each other," Noh said. "It's a global issue for sure and a happy thing, but ... I'm not sure how much South Korea will be able to profit from the event."
Additional reporting by AP
Comments will be moderated. Keep comments relevant to the article. Remarks containing abusive and obscene language, personal attacks of any kind or promotion will be removed and the user banned. Final decision will be at the discretion of the Taipei Times.