Italy-Malta standoff over rescue boat's fate escalates
REFUGEES: The boat, carrying more than 600 people rescued on Saturday, has been told by the Italian coast guard to remain 56.3km off Italy and 43.5km from Malta
Italy and Malta dug in for a second day yesterday and refused to let a rescue ship with 629 people aboard dock in their ports, leaving the migrants at sea as a diplomatic standoff escalated under Italy's new anti-immigrant government.
"Enough!" Italian Minister of the Interior Matteo Salvini said. "Saving lives is a duty, but transforming Italy into an enormous refugee camp isn't."
He tweeted: #Chiudiamoiporti. "We're closing the ports."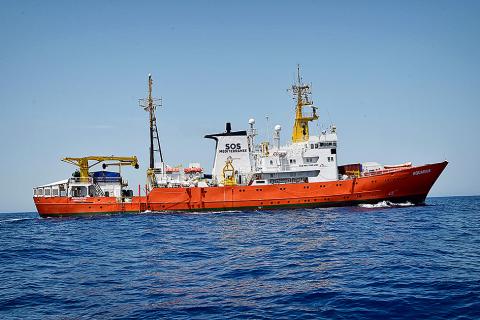 The search and rescue ship Aquarius, run by the French aid group SOS Mediterranee and Doctors Without Borders, sails off the Libyan coast on May 6.
Photo: AFP
Maltese Prime Minister Joseph Muscat also refused to take in the Aquarius of the humanitarian group SOS Mediterranee. He accused Italy, which coordinated the rescue, of violating international norms governing sea rescues.
Italy's position risks "creating a dangerous situation for all those involved," Muscat said.
As the rhetoric intensified, the Aquarius remained on standby in the Mediterranean Sea with its 629 passengers, including 123 unaccompanied minors and seven pregnant women. The ship said it had been ordered late on Sunday by Italy's coast guard coordination center to remain 56.3km off Italy and 43.5km from Malta.
The migrants had been rescued on Saturday during a series of operations by Italian ships, cargo vessels and the Aquarius itself. All passengers were offloaded to the Aquarius to be taken to land.
Doctors Without Borders, which has staff aboard the Aquarius, tweeted a video of some of the women aboard the ship praying yesterday morning and said they were unaware of the diplomatic drama being waged on land over their fate.
The group said it "urgently requests a swift resolution and a designated port of safety."
The standoff marked the first inevitable clash over migrant rescues with League leader Salvini now in charge of the Italian Ministry of the Interior.
Salvini campaigned on an anti-immigrant platform that also included a vow to expel hundreds of thousands of migrants already in Italy, even though experts doubt such mass deportations are feasible or financially viable.
Malta, for its part, has consistently refused to take in migrants, citing its small size and limited capacities.
The island nation has progressively reduced the number of migrants it has taken in over the past decade, from a high of 2,775 in 2008 to just 23 last year, UN statistics showed.
Salvini pointed to Malta's unwillingness in accusing Europe as a whole of leaving Italy on its own to deal with the refugee crisis.
He said that other European countries are very much involved in current rescue operations in the Mediterranean — including a German aid group currently off Libya — but no country is stepping up to actually take in the migrants.
"Italy has stopped bowing our heads and obeying," Salvini said in a Facebook post. "This time we say no."
Mayors across the south of Italy have pledged to defy a move by the government to prevent the Aquarius from docking in the Sicilian capital, but the mayors' defiance appears unlikely to serve any practical purpose without the direct support of the Italian coast guard.
Palermo Mayor Leoluca Orlando said he was ready to open the city's seaport to allow the rescued migrants to safely disembark.
"Palermo in ancient Greek meant 'complete port.' We have always welcomed rescue boats and vessels who saved lives at sea. We will not stop now," Orlando said. "Salvini is violating the international law. He has once again shown that we are under an extreme far-right government."
Additional reporting by the Guardian
Comments will be moderated. Keep comments relevant to the article. Remarks containing abusive and obscene language, personal attacks of any kind or promotion will be removed and the user banned. Final decision will be at the discretion of the Taipei Times.