Protests snowball in Jordan against austerity policies
Angry protests rocked cities across Jordan overnight against IMF-backed austerity measures including a new income tax draft law and price hikes, hours after the government and unions failed to reach an agreement to end the standoff.
About 3,000 people faced down a heavy security presence to gather near the prime minister's office in central Amman until the early hours of Saturday morning, waving Jordanian flags and signs reading "we will not kneel."
Protests have gripped the country since Wednesday, when hundreds flooded the streets of Amman and demonstrated in other cities to demand the fall of the government.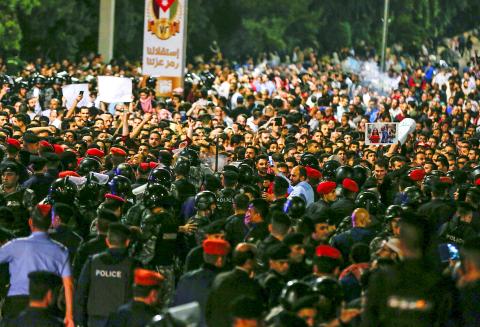 Protesters shout slogans in front of police and security forces during a demonstration outside the prime minister's office in Amman, Jordan, on Saturday night.
Photo: AFP
The government has proposed an income tax draft law, yet to be approved by parliament, aimed at increasing taxes on employees by at least 5 percent and on companies by between 20 and 40 percent.
It is the latest in a series of economic reforms and repeated price hikes on basic goods since Amman secured a US$723-million three-year credit line from the IMF in 2016.
The Economist Intelligence Unit earlier this year ranked Jordan's capital as one of the most expensive in the Arab world.
Since January, Jordan — which suffers high unemployment and has few natural resources — has seen repeated price rises including on bread, as well as tax hikes on basic goods.
Overnight, protestors outside Jordanian Prime Minister Hani Mulki's office shouted slogans, including "the ones raising prices want to burn the country" and "this Jordan is our Jordan, Mulki should leave."
Mulki on Saturday met with trade union representatives who demanded the income tax law be revoked, but failed to reach an agreement.
The head of Jordan's federation of unions, Ali Obus, demanded that the state "maintain its independence and not bow to IMF demands."
King Abdullah II called on parliament to lead a "comprehensive and reasonable national dialogue" on the new tax law.
"It would not be fair that the citizen alone bears the burden of financial reforms," he told officials on Saturday evening.
A majority of 78 out of parliament's 130 representatives have pledged to vote against the government's income tax law.
Comments will be moderated. Keep comments relevant to the article. Remarks containing abusive and obscene language, personal attacks of any kind or promotion will be removed and the user banned. Final decision will be at the discretion of the Taipei Times.