UK remembers London Bridge attack
ANNIVERSARY: A special cathedral service and a moment of silence were among the events, while the government is to release a revised counter-terrorism strategy today
Britain's resolve to "stand firm" against terrorism is stronger than ever, British Prime Minister Theresa May said yesterday, a year since a deadly vehicle-and-knife attack on London Bridge.
Eight people were killed and almost 50 injured when three Islamic State group-inspired attackers ran down pedestrians on the bridge, then stabbed people at bars and restaurants in nearby Borough Market on a warm spring evening.
The three attackers were shot dead by police within minutes.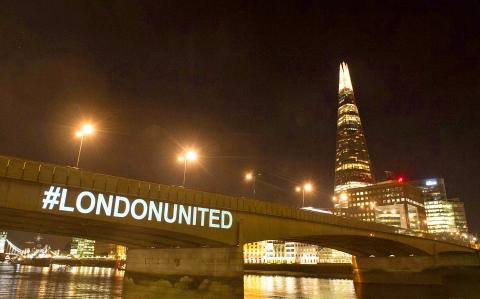 A tribute is projected onto the side of London Bridge early yesterday to mark the first anniversary of a vehicle-and-knife attack on the bridge in the British capital.
Photo: AP
The rampage came two weeks after a bombing at an Ariana Grande concert in Manchester Arena that killed 22 people.
Survivors, politicians and emergency workers yesterday attended a service at Southwark Cathedral near London Bridge, including Frenchwoman Christine Delcros, 46, who was seriously injured in the vehicle-ramming attack while her partner Xavier Thomas, 45, was killed.
The nation was scheduled to hold a minute of silence at 4:30pm, and the words #LondonUnited were being projected onto the bridge, which connects London's business district with the south bank side of the River Thames.
Candles were to be lit by relatives of the victims during the ceremony before an olive tree — known as the Tree of Healing — is planted in the cathedral grounds using compost from floral tributes left on the bridge in the aftermath of the murders.
May branded the June 3 attack "a cowardly attempt to strike at the heart of our freedoms by deliberately targeting people enjoying their Saturday night with friends and family."
She paid tribute to the bravery of first responders and others, including Ignacio Echeverria, a Spanish man who tackled the attackers with his skateboard and died in the attack.
The fact that seven of the eight victims came from outside Britain — from France, Spain, Australia and Canada — was "a reflection of our great cosmopolitan capital, whose energy and values brings together people from across the world, and a tragic reminder that the threat from terrorism transcends borders and impacts us all," May said.
"Our resolve to stand firm and overcome this threat together has never been stronger," she said.
The London Bridge carnage was one of a string of attacks in Britain last year involving Muslim militants or far-right extremists that killed 36 people in all.
"We expect the threat from Islamist terrorism to remain at its current, heightened level for at least the next two years, and that it may increase further," the government said yesterday.
It said it had foiled 25 Muslim militant plots since June 2013 — 12 of those since March last year — and was currently handling more than 500 live operations.
It said it would publish a revised counter-terrorism strategy later today designed to cope with what it said was a shift in the threats the country faces as militants of all ideologies, including extreme right-wing violence, adopt new tactics.
The revised strategy would try to develop police and security services data analysis capability, coordinate more closely between intelligence agencies and police on specific suspects, and look in more detail at the activity of right wing groups.
As part of that new strategy, British Home Secretary Sajid Javid yesterday announced that he plans to recruit 2,000 new security service officers to help combat the threat.
Additional reporting by Reuters and AFP
Comments will be moderated. Keep comments relevant to the article. Remarks containing abusive and obscene language, personal attacks of any kind or promotion will be removed and the user banned. Final decision will be at the discretion of the Taipei Times.