Man tapped to head Italy backs the euro
SPENDING CUTS: In his first remarks as premier-designate, Carlo Cottarelli said that his government would prudently manage Italy's debt, which totals 132 percent of its GDP
The man tapped to head a neutral government in Italy after two populists failed in their bid is a former official at the IMF who is a firm believer in the euro and in the necessity of Italy cutting its stubbornly high-debt load.
Carlo Cottarelli, an economist, has previous government experience under the short-lived center-left government of Enrico Letta, was chosen to identify areas where government spending could be trimmed. He found 32 billion euros (US$37.25 billion) in cuts, but left embittered when the government soon changed hands at the obstacles he found within the bureaucracy resisting cuts.
Italian President Sergio Mattarella yesterday tapped Cottarelli to try to form a government that can bring Italy to a new election, which Cottarelli said could come as early as this autumn.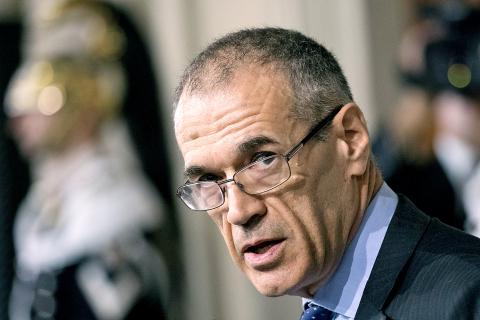 Carlo Cottarelli, Italy's premier-designate, attends a news conference at the Quirinale Palace in Rome, Italy, yesterday.
Photo: Bloomberg
In his first remarks, Cottarelli sought to calm markets and Italy's European partners, assuring that his government would guarantee "prudent" management of Italy's debt, which at 132 percent of GDP is Europe's heaviest after Greece.
While vowing to press Brussels to respond to the concerns of Italians, Cottarelli said that any such dialogue must be in "full recognition that as a founding country of the European Union, our role in the union is essential, as is our continued participation in the eurozone."
Cottarelli received an undergraduate degree in economics and banking from the University of Siena and a master's degree from the London School of Economics. He worked seven years at the Bank of Italy and then one at oil company Eni, both in research positions, before heading to the IMF, where he worked for 25 years, specializing in monetary policy, capital markets and fiscal affairs.
Since October, he has headed an observatory on Italian public accounts at the Catholic University of Milan, where he has a healthy Twitter feed of 15,000 followers.
He recently wrote a book titled The Seven Capital Sins of the Italian Economy, which might be read as a mission statement for a new government. He lists the sins as corruption, tax evasion, bureaucratic mire, the slow pace of justice, the low birth rate, the gap between north and south and the difficult acceptance off the euro.
In his current role, Cottarelli has made frequent appearances in Italian media to evaluate the fiscal plans of the populist parties that had hoped to form a government together, the anti-establishment Five-Star Movement and the euroskeptic League.
Their attempts to form a government foundered on insistence on an economics minister with anti-euro views, which Italy's president said put Italians' savings and investments at risk.
Cottarelli told Italy's Radio Radicale two weeks ago that the two parties' primary error was "making people in some way believe that without the euro, all problems would disappear... Now they are trying to say that we are genetically incompatible with the euro."
He rejected that argument saying Italy is not structurally weaker than Germany, but that the message needed to be underlined that "if we want to share currency, we need to behave in a different way."
He said that Italy's inflation level is currently below Germany's, making Italy more competitive industrially.
"To abandon the thing at this point seems to me to be a mistake," he said.
Comments will be moderated. Keep comments relevant to the article. Remarks containing abusive and obscene language, personal attacks of any kind or promotion will be removed and the user banned. Final decision will be at the discretion of the Taipei Times.