Hundreds evacuate after Hawaiian volcano erupts
Hundreds of people on Hawaii's Big Island were ordered to evacuate their homes after the Kilauea Volcano erupted, belching ash into the sky and spewing fountains of lava in a residential area, officials said yesterday.
The volcano, one of five on the island, erupted on Thursday after a series of earthquakes over the past couple of days, including a magnitude 5.0 quake earlier in the day, the US Geological Survey reported.
Residents in the Puna communities of Leilani Estates and Lanipuna Gardens subdivisions, home to about 1,700 people, were ordered to evacuate after public works officials reported steam and lava spewing from a crack, the Civil Defense Agency said.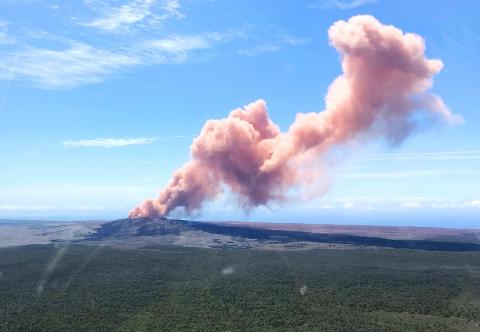 An ash plume rises above the Kilauea volcano on Hawaii's Big Island on Thursday.
Photo: AFP / US Geological Survey / Kevan Kamibayashi
One local, Michael Hale, told the Honolulu Star-Advertiser he saw lava bursting from a fissure just two blocks from his home and business, Hale Hale Hostel and Vacation Rentals.
"I looked around and asked myself: 'What's valuable?'" he told the newspaper. "In that moment, nothing looked valuable. I filled the cab with mostly junk and that was it."
Two emergency shelters were opened to take in evacuees, the Civil Defense Agency said, while Hawaiian Governor David Ige activated the Hawaii National Guard to provide emergency help.
"Please be alert and prepare now to keep your family safe," he said on Twitter to residents living near the volcano.
No injuries or deaths were reported.
Another resident, Ikaika Marzo, told Hawaii News Now that he saw "fountains" of lava as high as 38m.
Others told the news network they smelled burning brush and heard tree branches snapping.
The Hawaii Fire Department reported extremely high levels of dangerous sulfur dioxide gas detected in the evacuation area, the Civil Defense Agency said.
A 150m fissure erupted with lava for about two hours in Leilani Estates at about 5:30pm, the Hawaii Volcano Observatory said on its Web site.
"The opening phases of fissure eruptions are dynamic and uncertain. Additional erupting fissures and new lava outbreaks may occur," it said.
Comments will be moderated. Keep comments relevant to the article. Remarks containing abusive and obscene language, personal attacks of any kind or promotion will be removed and the user banned. Final decision will be at the discretion of the Taipei Times.