Pell faces two trials
'COMPLETELY DIFFERENT': The cardinal's lawyer urged two trials, saying the charges relate to separate decades, and requested a swift start, as his client is 76 years old
Australian Cardinal George Pell, the most senior Vatican official to be charged in the Catholic Church sex abuse crisis, is to face two separate trials within months on sex crime allegations spanning decades, an Australian court heard yesterday.
Pell appeared for an administrative first hearing in the Victoria State County Court, where he is to be tried, after a magistrate on Tuesday decided he should face a jury.
His lawyer, Robert Richter, yesterday said he had agreed with prosecutors to split the remaining charges into two trials.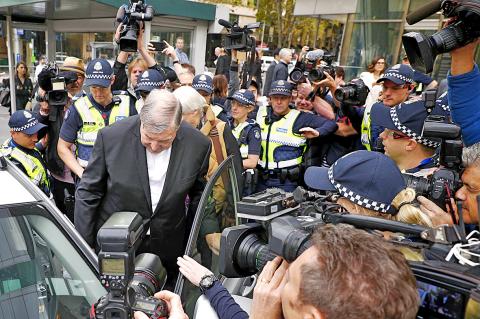 Cardinal George Pell gets into a car outside the County Court of Victoria yesterday in Melbourne, Australia.
Photo: EPA
The charges relating to Pell's time as a priest in his hometown of Ballarat in the 1970s and those relating to his time as archbishop of Melbourne in the 1990s were "of a completely different nature" and "separated by 20 years," Richter told Judge Sue Pullen.
Details of the charges and their number have not been made public.
Pell also wanted the first trial to start soon for several reasons, Richter said.
"No. 1, my client is 76 years old, and No. 2, everyone has to get on with their lives," Richter said, adding that one of the witnesses was 80 years old.
Prosecutor Mark Gibson said the prosecution would need three months to compile its case, but later described that estimate as "conservative," meaning prosecutors could be ready sooner.
"I do think three months is a little excessive," Pullen said.
Prosecution and defense lawyers agreed the two separate trials would take a total of eight to 10 weeks.
Asked by Pullen if Pell could afford his defense, Richter replied the cardinal had "no problem with funding."
Pell was allowed to leave the court on bail ahead of his next administrative hearing on May 16. Pullen rejected an application to excuse Pell from attending that day.
Dozens of police linked arms to escort Pell, wearing a dark suit, white shirt and a cleric's collar, through a media throng from the court to a waiting car.
After Pell was ordered to stand trial, Vatican spokesman Greg Burke issued a statement, saying: "The Holy See has taken note of the decision issued by judicial authorities in Australia regarding his eminence Cardinal George Pell."
"Last year, the Holy Father granted Cardinal Pell a leave of absence so he could defend himself from the accusations. The leave of absence is still in place," it added.
Under his bail conditions, Pell cannot leave Australia, contact prosecution witnesses and must give police a 24-hour notice of any change of address.
Comments will be moderated. Keep comments relevant to the article. Remarks containing abusive and obscene language, personal attacks of any kind or promotion will be removed and the user banned. Final decision will be at the discretion of the Taipei Times.