'He is also just a human being': South Koreans fascinated by Kim Jong-un
South Koreans yesterday pored over every detail of a historic summit in the Demilitarized Zone, transfixed by an extraordinary charm offensive by North Korean leader Kim Jong-un.
Kim's public appearance at the summit, broadcast live to millions in the South, was for many the first prolonged exposure to an authoritarian figure revered in his secretive nation, but shrouded in mystery.
South Koreans and the world have long viewed him with a mixture of ridicule and fear, becoming used to the sight of him presiding over missile launches and military parades, but it was a very different Kim that took to the world stage on Friday.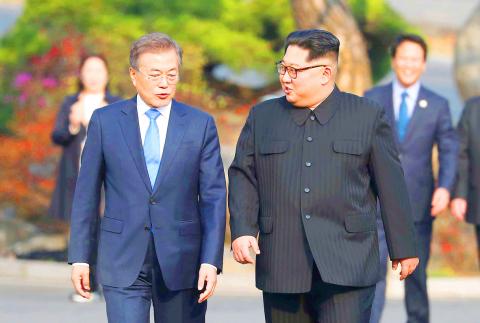 South Korean President Moon Jae-in, left, and North Korean leader Kim Jong-un speak as they walk through the Demilitarized Zone in the border village of Panmunjom in South Korea on Friday.
Photo: EPA
The 30-something leader was on his best behavior, frequently flashing a smile, making humorous remarks and patting children as tenderly as any election-seeking politician in the West.
"I heard Kim Jong-un making a joke and hearing that made me realize that he is also just a human being," Choi Hyun-ah, a 24-year-old events planner, told reporters.
Kim showed a few brief moments of human fallibility, appearing slightly out of puff at times and missing the soil when trying to plant his shovel during a tree-planting ceremony.
The reclusive North "deifies Kim in a strict, scripted and controlled manner," said the Korea Times, but "everything about him — including his facial expressions, walk, gesture, voice, black Mao suit and signature hairstyle — was streamed live by global media outlets."
Kim was "no longer a hermit," the paper said in the headline of its editorial, adding he had shown himself capable of "showmanship" with his impromptu invitation to South Korean President Moon Jae-in to hop briefly over the border to the North himself.
Kim rapidly got into his stride, reducing the South Korean delegation to giggles with banter about noodles from the North and seeming playful at times, deadly serious at others.
For half an hour, the cameras were trained on Kim as he chatted with Moon over al-fresco tea in woodlands in the Demilitarized Zone that divides their two countries.
Not a word could be heard — just birdsong in the trees — but it was compelling viewing nevertheless, Kim appearing to listen intently to his elder counterpart, nodding gently and occasionally making small gestures.
The Korea Herald even examined Kim's inscription in a guestbook to analyze his handwriting — which like many aspects of his public persona is modelled on that of his grandfather and predecessor, the North's founder Kim Il-sung.
A graphologist pronounced he has a "feisty and self-centered personality," and was "excited and highly elated when he wrote the message."
His gravelly tones — he has often been photographed with a lit cigarette in hand — were an object of fascination for many.
"It was very, very weird to hear Kim Jong-un's voice on TV," said Kim Kyung-ah, a 32-year-old mother in Seoul.
"I mean, I always knew that he existed, but today was the first time where I felt: 'Oh my God, Kim Jong-un is a real person,'" she told the Korea Herald. "Up until today, it always felt like Kim was some sort of cartoon character. It was refreshing to see him talking about normal things like cold noodles, not nuclear weapons or wars."
South Koreans were also fascinated by Kim's wife, Ri Sol-ju, and his powerful sister, Kim Yo-jong, who spent much of the day at her brother's side.
Kim's sister — who acted as his envoy to the South's Winter Olympics in February — broke into a broad grin while greeting Moon, with officials later saying she had blushed when the South Korean president said she had become a celebrity.
Comments will be moderated. Keep comments relevant to the article. Remarks containing abusive and obscene language, personal attacks of any kind or promotion will be removed and the user banned. Final decision will be at the discretion of the Taipei Times.