Reporter killed filming protests in Nicaragua
In the grainy, nighttime video, journalist Angel Gahona, clad in jeans and a blue shirt, holds up a cellphone and narrates as he approaches the facade of city hall in Bluefields, Nicaragua, reporting live via Facebook on protests that have rocked the Central American nation for four days.
Seconds later a gunshot rings out and Gahona slumps lifeless to the curb. Voices cry his name and someone presses a piece of cloth to his head to try to staunch the stream of blood.
Another Bluefields reporter, Ileana Lacayo, confirmed that he died before reaching the hospital.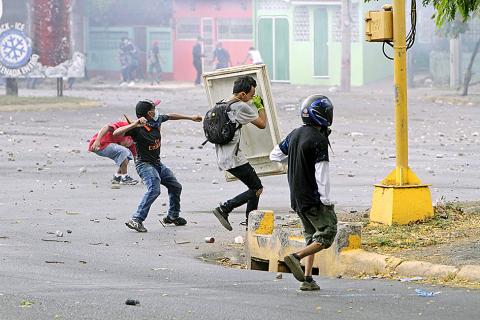 Students clash with riot police during protests against government reforms near the Institute of Social Security in Managua, Nicaragua, on Saturday.
Photo: AFP
Besides Gahona at least 25 others have been killed since Wednesday in unrest over social security reforms planned by Nicaraguan President Daniel Ortega's government, according to a human rights group. Dozens more have been injured or arrested.
Ortega on Saturday said in his first public appearance since the demonstrations began that his government is willing to enter into talks over the dispute.
In a nationally televised address, he said he was open to negotiations so that there is "no more terror for Nicaraguan families," but the dialogue would be just with business leaders and not with other sectors of society.
He also seemed to try to justify what has been a heavy-handed response by the government and allied groups, accusing demonstrators, most of them university students, of being manipulated by unspecified "minority" political interests and of being infiltrated by gangsters.
"What is happening in our country has no name. The kids do not even know the party that is manipulating them... Gang members are being brought into the kids' protests and are criminalizing the protests. That is why they are put at risk," Ortega said.
Those remarks appeared to fan the flames, as soon afterward thousands of people spilled back into the streets in seven cities including the capital, Managua, after tensions had calmed somewhat on Friday night.
"We are in the streets asking for Ortega and his wife to go. This has already gone beyond the social security issue. Here there have been dead, wounded, and he does not even apologize for his killings or the savage repression against the people," said Mauri Hernandez, one of thousands of demonstrators.
Comments will be moderated. Keep comments relevant to the article. Remarks containing abusive and obscene language, personal attacks of any kind or promotion will be removed and the user banned. Final decision will be at the discretion of the Taipei Times.