Second Saturday protest against Orban
Tens of thousands of Hungarians took to the streets in Budapest for a second consecutive Saturday to protest against newly re-elected Hungarian Prime Minister Viktor Orban.
The crowd marched through the city to a rally where speakers demanded non-partisan public media and an end to campaigns against civic groups.
Opposition parties from across the political spectrum participated in this week's rally.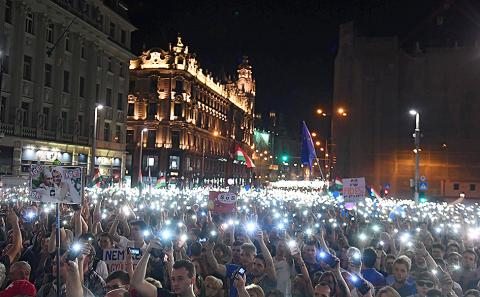 Protesters hold up their cellphones as they take part in an anti-government demonstration in Budapest, Hungary, on Saturday night.
Photo: AFP
Organizers said there were more than 100,000 people in attendance, comparable to the turnout for the largest pro-Orban event held before the April 8 election that saw him re-elected.
Orban's overwhelming victory gration saw his Fidesz party secure about half the vote.
However, among criticisms regarding the fairness of the election, observers from the Organisation for Security and Co-operation in Europe said that the campaign was marked by media bias.
As part of sweeping reforms since he came into power in 2010, Orban has turned the public media into what his critics call "government mouthpieces."
Many of the demonstrators, most of whom were young, chanted "democracy" and brandished Hungarian and EU flags.
Protest organizer Viktor Gyetvai, 20, told reporters that the protest was "not going to change the system overnight," but was aimed at sparking a "civil movement" to challenge Orban.
"These are first steps, a sign that there are many Hungarians who want to live in a democracy, with independent institutions and a free media," Gyetvai said, adding that more demonstrations would be held in provincial cities in coming weeks.
About 100,000 protesters on April 14 held a protest in Budapest days after Orban's win, which handed the 54-year-old politician his third consecutive two-thirds parliamentary majority and a legislative free reign for the next four years.
Orban has since signaled an escalation of his long-running onslaught on non-governmental organizations (NGO) linked to liberal US billionaire George Soros.
He accuses the Hungarian-born 87-year-old of plotting to destroy Europe though mass immigration.
A pro-Orban newspaper recently published a list of about 200 "Soros mercenaries" that included staff at NGOs, universities and investigative journalism Web sites.
Soros' Open Society network on Friday said that it is considering moving its office from Budapest, possibly to Berlin, if the laws are approved.
Organizers of Saturday's opposition rally said the next demonstration would take place outside parliament on May 8.
"This system is not democracy," said the main speaker at the rally, Peter Marki-Zay, 45, a former Fidesz voter who shot to nationwide prominence in February after winning a shock mayoral election against Orban's party in a provincial city.
A united anti-Orban front should be built from scratch, Marki-Zay said, adding that the existing opposition parties have failed to present a challenge to the powerful prime minister.
Additional reporting by AP
Comments will be moderated. Keep comments relevant to the article. Remarks containing abusive and obscene language, personal attacks of any kind or promotion will be removed and the user banned. Final decision will be at the discretion of the Taipei Times.