Opposition leaders detained in Armenia
GROWING PROTESTS: Prime Minister Serzh Sargsyan yesterday stormed out of a televised meeting with Civil Contract party leader and lawmaker Nikol Pashinyan
Armenian police yesterday detained three opposition leaders and dispersed some protesters on the 10th day of demonstrations against the appointment of former president Serzh Sargsyan as prime minister, an opposition politician and witnesses said.
Protesters accuse Sargsyan of clinging to power after he was appointed prime minister this month following 10 years as president.
Tens of thousands of opponents have marched through Yerevan, blocking streets in the city center and staging sit-ins.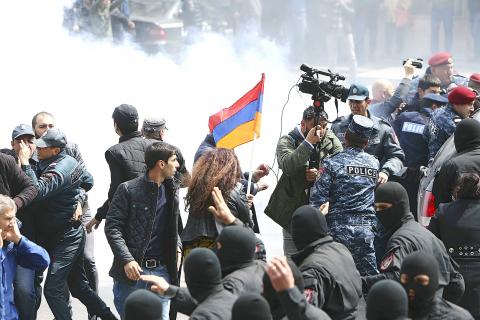 Police yesterday move in to disperse participants at a rally in Yerevan against the appointment of former Armenian president Serzh Sargsyan as prime minister and calling for new parliamentary elections.
Photo: Reuters
Police said in a statement that opposition politician Nikol Pashinyan and two other lawmakers had been "forcibly removed" from the protest, but had not been arrested.
As a member of parliament, Pashinyan is protected by parliamentary immunity and cannot be arrested without the approval of lawmakers, in accordance with the Armenian constitution.
The police statement also said that police had started to disperse protesters "guided by the law."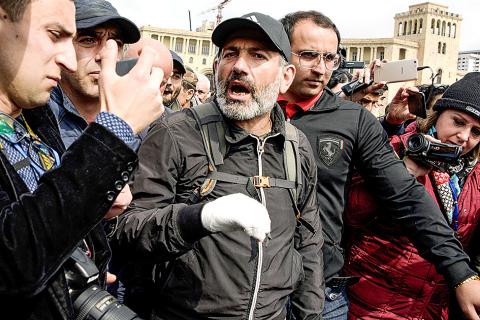 Opposition Civil Contract party lawmaker Nikol Pashinyan, center, yesterday leaves after a televised meeting with Armenian Prime Minister Serzh Sargsyan in Yerevan.
Photo: AFP
The statement was issued shortly after Pashinyan held talks with Sargsyan, who walked out of the nationally televised meeting just minutes after it started, after accusing his opponents of trying to "blackmail" the authorities.
One of the protest leaders, Ararat Mirzoyan, wrote on his Facebook page that he had been "illegally detained" along with Pashinyan and a third opposition politician, as well as other protesters.
An eyewitness said police armed with batons and shields cleared at least one area of the capital where protests had been taking place, but demonstrators remained in other areas.
Riot police using stun grenades clashed with demonstrators at the march led by Pashinyan in Yerevan's Erebuni suburb.
The Armenian parliament voted on Tuesday to allow Sargsyan to become prime minister.
Under a revised constitution approved in a 2015 referendum, most state powers in the small, former Soviet state have shifted to the prime minister, while the presidency has become a largely ceremonial post.
At his brief meeting yesterday with Pashinyan, Sargsyan said: "This is not talks, not a dialogue, it's just an ultimatum, blackmail of the state, of the legitimate authorities."
He said his opponents "did not learn the lesson of March 1," referring to a protest rally after his re-election in 2008 when 10 people were killed in clashes with police.
"I came here to discuss your resignation," Pashinyan, the leader of the opposition Civil Contract party, had told the prime minister before the cameras.
"No one has dared and will dare speak to us in the language of threats. I am telling you: You have no understanding of the situation in the country. The situation is different to the one you knew 15-20 days ago," Pashinyan told Sarksyan.
"The situation in Armenia has changed, you don't have the power of which you are told. In Armenia, the power has passed to the people," he said.
"A party that scored 8 percent in elections can't speak on behalf of the people," Sargsyan said before walking out of the meeting room in Yerevan's Marriott hotel.
Pashinyan has called for a nationwide campaign of "civil disobedience," urging civil servants "to stop obeying Sargsyan."
Additional reporting by AFP
Comments will be moderated. Keep comments relevant to the article. Remarks containing abusive and obscene language, personal attacks of any kind or promotion will be removed and the user banned. Final decision will be at the discretion of the Taipei Times.