Bomber kills 31 at Kabul voter registration center
SUICIDE ATTACK: The center in the Afghan capital's Shiite-populated west was also being used by people to register for identification certificates required for voting
A suicide bomber yesterday killed at least 31 people and wounded dozens outside a voter registration center in the Afghan capital, Kabul, the Afghan Ministry of Public Health said, in the latest attack on election preparations.
The assaults underscore growing concerns about security in the lead-up to legislative elections scheduled for Oct. 20, which are seen as a test-run for next year's presidential poll.
"It happened at the entrance gate of the center. It was a suicide attack," Kabul Police Chief Dawood Amin told reporters.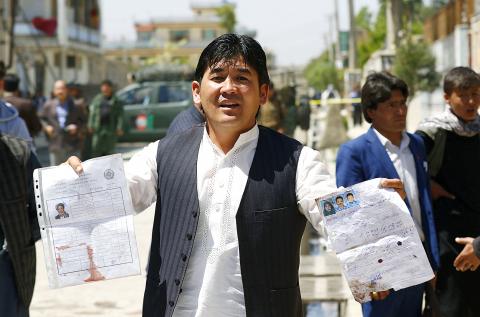 A man holds up bloodied documents after a suicide bombing at a voter registration center in Kabul, Afghanistan, yesterday.
Photo: EPA
Ministry spokesman Wahid Majroh said 31 people had been killed and 54 wounded.
The higher toll could not be immediately confirmed, but a police official told reporters on condition of anonymity that at least 25 people had been killed and 70 wounded.
Earlier, Afghan Ministry of Interior Affairs spokesman Najib Danish put the death toll at nine and 56 wounded.
He could not immediately be reached for an update.
The center in the heavily Shiite-populated neighborhood in the west of the city was also being used by people to register for national identification certificates, which they need to sign up to vote.
Footage on Ariana TV showed pools of blood and shattered glass on the street.
Angry crowds shouted "Death to the government," and "Death to the Taliban."
There was no immediate claim of responsibility. The Taliban have denied they were involved.
A wounded man in a hospital bed wept as he told Ariana TV: "I don't know where my daughters are. God damn the attackers."
"Now we know the government cannot provide us security. We have to get armed and protect ourselves," a witness, named Akbar, told Tolo TV.
Photographs posted on social media purportedly of the scene showed several bodies on the ground and a badly damaged two-story building.
Afghanistan began registering voters on April 14 for the legislative elections.
Officials have acknowledged that security is a major concern as the Taliban and other militant groups control or contest large swathes of the country.
Afghan police and troops have been tasked with protecting polling centers, even as they struggle to get the upper hand against insurgents on the battlefield.
Over the next two months, authorities hope to register up to 14 million voters at more than 7,000 polling centers for the parliamentary and district council elections.
Officials have been pushing people to register amid fears a low turnout will undermine the credibility of the polls.
The last major attack in Kabul was on March 21, when an Islamic State group suicide bomber blew himself up in a crowd celebrating the Persian New Year.
At least 33 people were killed and dozens more wounded in that blast, which also happened in a Shiite area of the city.
Comments will be moderated. Keep comments relevant to the article. Remarks containing abusive and obscene language, personal attacks of any kind or promotion will be removed and the user banned. Final decision will be at the discretion of the Taipei Times.