Holocaust law invoked against Israeli president
FORBIDDEN ACT: A Polish nationalist movement has accused the Israeli leader of deliberately attributing responsibility for Nazi crimes to the Polish state
Polish nationalist movement Ruch Narodowy (RN) on Tuesday said it had filed a complaint with prosecutors against the Israeli president under Poland's controversial new Holocaust law for having attributed responsibility to Poland for Nazi German crimes.
It follows a press statement released by Israeli President Reuven Rivlin's office last week after his meeting with Polish President Andrzej Duda in Poland's southern city of Krakow on the occasion of the annual March of the Living at the site of the former Nazi German death camp Auschwitz-Birkenau.
According to the statement, Rivlin had said during the talks: "There is no doubt that there were many Poles who fought the Nazi regime, but we cannot deny that Poland and Poles had a hand in the extermination."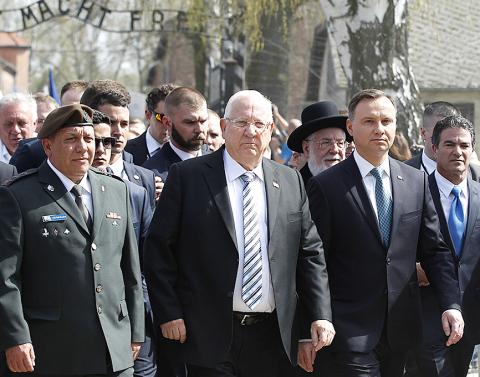 Polish President Andrzej Duda, right, and Israeli President Reuven Rivlin, center, walk in the March of the Living in Oswiecim, Poland, on Thursday last week.
Photo: AP
The RN movement said Rivlin "had attributed responsibility for Nazi crimes to the Polish state," which is forbidden under the new Holocaust law.
The legislation, which came into effect last month penalizes such statements with fines or a jail term of up to three years.
The Israeli statement "requires quick and effective judicial proceedings and a serious penalty, both in terms of general prevention measures and public expectations," the RN wrote on its Web site. "The author acted with the goal of consciously and intentionally committing a forbidden act."
The RN said it lodged the complaint with the IPN Institute of National Remembrance, which is charged with prosecuting Nazi and communist-era crimes.
Poland's Holocaust law was meant to protect the country from false accusations of complicity in the Holocaust.
However, it has drawn strong criticism from Israel and Jewish organizations, which accused Warsaw of denying the participation of certain Poles in the genocide of Jews.
Israel also expressed deep concern that the law could open the door to prosecuting Holocaust survivors for their testimony.
During World War II, Poland was invaded by Nazi Germany and ceased to exist as a state. Six million Poles, half of them Jews, were killed during this period.
Comments will be moderated. Keep comments relevant to the article. Remarks containing abusive and obscene language, personal attacks of any kind or promotion will be removed and the user banned. Final decision will be at the discretion of the Taipei Times.