Mastermind behind murder protected: family
The family of the murdered journalist Daphne Caruana Galizia believe that three men awaiting trial for the crime were acting on orders from inside Malta and have expressed concern that elements within the government might be protecting whoever commissioned the killing.
In his first full interview since his wife's death in a car bombing six months ago, Peter Caruana Galizia said that political interests were blocking the police investigation and said he feared the mastermind might never be brought to justice.
"It is clear to us that the three men arraigned so far are simply contractors commissioned by a third party," he said. "My sons and I are not convinced that our government really wants to establish who sent them, for fear such persons are in fact very close to our government. For this reason we may never know the truth."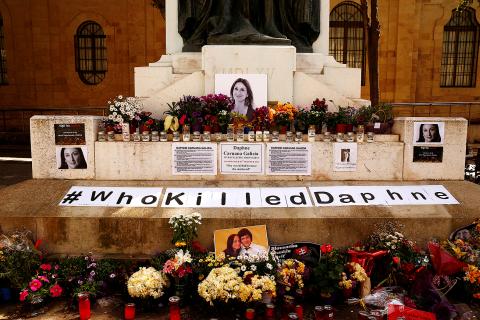 Photographs of assassinated journalists Daphne Caruana Galizia, top, and Jan Kuciak, right, and his fiancee, Martina Kusnirova, are seen on a makeshift memorial to Caruana Galizia in Valletta, Malta, on March 18.
Photo: Reuters
The accused men have all entered not guilty pleas.
Police are still setting out their evidence before a magistrate, who is to decide whether to dismiss the case or send the men for prosecution before a judge and jury.
The Maltese government said police are leaving no stone unturned.
The Maltese Minister for Justice is offering a 1 million euros (US$1.2 million) reward for information leading to anyone who might have ordered the car bombing on Oct. 16 last year.
Daphne Caruana Galizia had plenty of enemies and critics. She had challenged many who hold power and influence in Malta: mobsters, business people, public officials, lawyers, the governing Labour Party, even the current leader of the Nationalist Party, with which she had been closely aligned.
The journalist's widower was speaking from the family home in the village of Bidnija, Malta, where he is under 24-hour police protection. The 62-year-old lives alone because the family have been advised by security experts that it is too dangerous for his three sons to stay on the island where they grew up.
Peter Caruana Galizia agreed to speak because of his concerns that the murder inquiry, which has been assisted by the FBI, appears to have stalled.
The three suspects have been widely reported in Malta's media as being known to the police.
Daphne Caruana Galizia's family have dismissed the government's offer of a reward for information about the mastermind as a publicity stunt.
According to two sources with knowledge of the investigation, officers are working on the assumption that the maker of the bomb is still at large and that whoever ordered the attack might have links to organized crime.
Detectives believe the accused — brothers George and Alfred Degiorgio, and their friend Vincent Muscat — had been tipped off before their arrest. When officers sought them out in the harbor area of Marsa, in a raid filmed on a soldier's head camera and later broadcast on television, police believe they were prepared.
Phones had allegedly been thrown in the water, and George had his partner's mobile number written on his hand.
"I don't see a full commitment to trying to find out who sent the killers," Peter Caruana Galizia said.
His wife's political blog often attracted more readers than all of Malta's national press combined and took aim at anyone she believed needed to be held to account.
Daphne Caruana Galizia used to joke that someone would have to take out a contract on her life before she fell silent, her husband said.
"Subconsciously she knew that this was the only way she was going to be stopped," he said.
The world had gradually closed in on Malta's best-known journalist in the last four years of her life. Members of the ruling Labour Party had encouraged the public to film and photograph her wherever she went, and to upload the pictures to social media. She feared meeting sources in public and rarely left the house.
A libel case from the Maltese Minister of Finance had resulted in cash being seized and she felt unable to use her bank accounts.
She was facing 47 libel suits when she died.
Those now seeking damages from her heirs, who have inherited many of the cases, include Maltese Prime Minister Joseph Muscat, his chief of staff, Keith Schembri, and two of his ministers.
"Allegations of organized threats or harassment against Daphne Caruana Galizia or her family are wholly false," Muscat said in an e-mail sent by his spokesman. "My family and I were at the center of Daphne Caruana Galizia's politically motivated attacks, but we did not respond to her provocations, fully aware of my role and responsibility as the prime minister of Malta and the leader of the Labour Party. I have only resorted to legal means in extreme circumstances."
Police would be free to "go wherever the evidence takes them," Muscat said, adding that the murder was being investigated "vigorously," with police given whatever resources they needed.
Schembri said Daphne Caruana Galizia had made frequent allegations against him which were "often misinformed and defamatory," and that, where appropriate, he had instructed lawyers "to seek proper correction and redress."
The journalist had fallen out not only with Labour, but with an array of public officials, business people, magistrates and the new leader of the Nationalist Party, which she had previously supported.
"The two parties suddenly had her in their sights and something had to give," Peter Caruana Galizia said. "It had become impossible. They found it difficult to attack what she said, so instead they attacked her on a personal level. So she became also very recognizable because they had photos of her, screenshots. The more she gave, the more she got. It was a machine against one person really."
Comments will be moderated. Keep comments relevant to the article. Remarks containing abusive and obscene language, personal attacks of any kind or promotion will be removed and the user banned. Final decision will be at the discretion of the Taipei Times.