Jakarta rules against seizure of yacht
LUXURY RIDE: The 'Equanimity' is among assets the US Department of Justice alleges were bought by Low Taek Jho using money stolen from the Malaysian 1MDB fund
The Indonesian police's seizure of a luxury yacht at the request of the FBI was unlawful, the South Jakarta District Court said on Tuesday, in a blow to the US probe into an alleged multibillion-dollar theft of funds from a Malaysian state investment company.
Judge Ratmoho, who uses one name, ordered the return of the yacht to its owner.
Indonesian police seized the US$250 million Equanimity off Bali on Feb. 28 in cooperation with the FBI, but were prevented from handing it over to the US after a legal challenge from the yacht's Cayman Islands-registered holding company.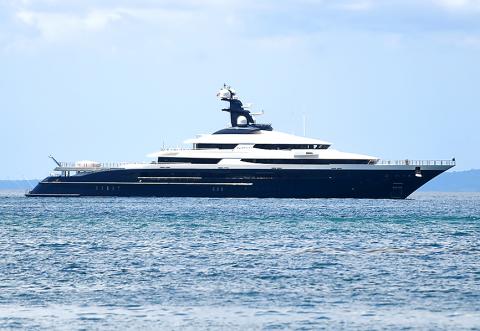 The Cayman Islands-registered vessel Equanimity is pictured in waters off Tanjung Benoa, Indonesia, on April 4.
Photo: AFP
The Equanimity is among assets the US Department of Justice alleges were bought by Malaysian national Low Taek Jho (劉特佐), also known as Jho Low, using money stolen from the Malaysian fund 1MDB and laundered through Singapore, Switzerland, Luxembourg and the US.
Malaysian Prime Minister Najib Razak was embroiled in the scandal when it emerged that about US$700 million had passed through his personal bank accounts.
He denied any wrongdoing and said the money was a political donation from the Saudi Arabian royal family that was later returned.
Ratmoho said the US request for cooperation should have been through the Indonesian Ministry of Law under a 2006 law governing mutual legal assistance.
Police should have advised the FBI to follow that process, he said.
"Police should only conduct joint operations after mutual legal assistance is agreed by the Ministry of Law and Human Rights," he said.
The Department of Justice filed a civil case in June seeking recovery of assets worth several hundred million dollars it says were bought with laundered 1MDB money, including Equanimity. Overall, it says more than US$4.5 billion were stolen between 2009 and 2014 from 1MDB, which was set up by Najib to promote economic development.
Low, an associate of Najib, had no formal role at the fund, but considerable influence over it, according to the US court documents.
Andi Simangunsong, a lawyer for Equanimity's holding company, welcomed the ruling and said the court had provided clear guidance to police on dealing with foreign requests for legal cooperation.
"There are procedures to be followed under the mutual legal assistance law," he said. "We hope our law enforcers will pay attention to these procedures."
Lawyers for police declined to comment.
Indonesian National Police Deputy Director of Economic Crimes Daniel Silitonga, who headed the seizure operation, said police would review the court ruling to determine their next steps.
"We are now closely coordinating with the FBI to respond to it," he said.
Equanimity's lavish amenities include a helicopter landing pad, plunge pool, gymnasium and a cinema. It was built in 2014 by Netherlands yacht manufacturer Oceano, which received detailed instructions from Low about its outfitting, according to the US civil case documents.
Comments will be moderated. Keep comments relevant to the article. Remarks containing abusive and obscene language, personal attacks of any kind or promotion will be removed and the user banned. Final decision will be at the discretion of the Taipei Times.