North Korea pays homage to birth of nation's founder
Thousands of North Korean devotees laid flowers before statues of the country's founder Kim Il-sung yesterday on the anniversary of his birth.
A constant stream of soldiers in brown uniforms, work unit personnel in suits, schoolchildren and families made their way to Mansu Hill in the center of Pyongyang, where giant statues of Kim and his son and successor look out over the capital.
In turn, each group approached the bronze edifices, most people with single blooms, some carrying golden baskets of flowers — making their offerings before assembling in formation.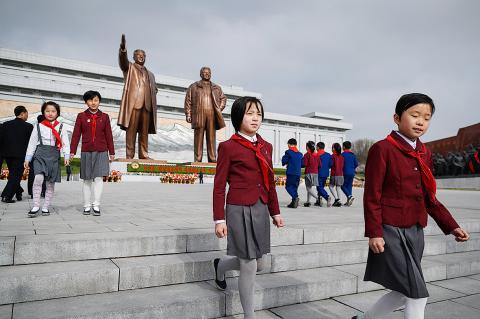 Children walk down steps after paying their respects before the statues of late North Korean leaders Kim Il-sung and Kim Jong-il at Mansu Hill in Pyongyang yesterday.
Photo: AFP
North Koreans are taught from an early age to revere their leaders, and portraits of the two late rulers gaze down in every home, school and workplace in the country.
Current leader Kim Jong-un is the third of the dynasty to head the isolated and impoverished but nuclear-armed country, whose calendar is packed with anniversaries relating to his two forefathers and their careers.
The accompanying rituals both demonstrate and reinforce loyalty to the regime. Yesterday, known as the Day of the Sun, is by far the most important and sometimes marked with a military parade, as it was last year.
Kim Il-sung remains the country's Eternal President despite dying in 1994. His son passed away in 2011, but is still Eternal General Secretary of the ruling Workers' Party of Korea.
Retired senior colonel Kim Yong-won, 76, donned his old uniform for the occasion, his chest heavily bedecked with medals — the most important, he said, being a gold star depicting a soldier, a sailor and an airman for 30 years of service.
"Every time I visit here, the feeling is special," he said. "I cannot express my feelings in one word. The feeling like this is not only for me, but also for all Koreans, as well as the world's progressive people."
On the platform in front of the statues, a young girl carrying a straw broom carefully picked up a stray twig and took it away.
Comments will be moderated. Keep comments relevant to the article. Remarks containing abusive and obscene language, personal attacks of any kind or promotion will be removed and the user banned. Final decision will be at the discretion of the Taipei Times.