Afghans register to vote in long-delayed elections
Afghanistan began registering voters across the war-torn country this weekend, as it seeks to ensure long-delayed legislative elections in October are seen as credible and fraud-free.
Over the next two months, authorities hope to register as many as 14 million adults at more than 7,000 polling centers — an ambitious goal in a country where militants control or contest much of the territory.
"The main challenge is insecurity, particularly in rural areas," Independent Election Commission (IEC) chairman Abdul Badie Sayad said.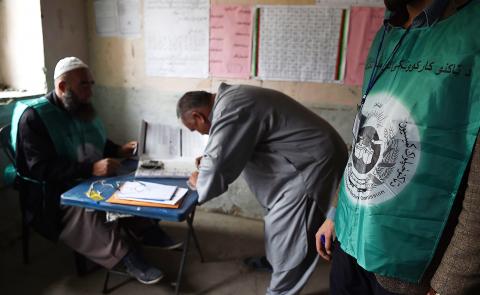 Afghan employees of the Independent Election Commission register a resident on Saturday at a voter registration center for the upcoming parliamentary and district council elections in Kabul.
Photo: AFP
In addition to the Taliban and Islamic State groups terrorizing swathes of the population, "local powers, illegal militias and strongmen will try to interfere" in the parliamentary and district council elections, Sayad said.
A shortage of female staff at polling centers, particularly in conservative rural areas, could also impede participation by women in the polls, which are seen as a test run for next year's presidential elections.
"Women will not be given permission from their families to reach the registration centers where they might be asked to remove their burqas to show their faces," Sayad said.
In Kabul on Saturday, police officers stood guard at a school being used as a polling center, but only a handful of men showed up to register.
One of them was Mohammad Hussein, a 54-year-old shopkeeper, who said he wanted to vote for a candidate "able to bring about change in this country."
"I voted in 2010, but I made a mistake — the legislator didn't bring about any changes. This time I need to vote for someone who works without taking bribes," Hussein said.
The October 20 polls were originally set to be held in 2015 following presidential elections the previous year, but they have been repeatedly pushed back due to security fears and logistical issues within the fragile unity government.
If held, candidates would contest the 249 seats in the National Assembly for five-year terms. The country would also hold regional elections in tandem in hundreds of districts across Afghanistan — some of which are outside of Kabul's control.
Over the coming weeks the IEC hopes to register 13 to 14 million people at the polling centers where they are required to cast their vote, which officials hope would reduce the risk of ballot-box stuffing.
A television advertising campaign has been launched to persuade ordinary Afghans that their vote will count — something that is to be a challenge after a disputed presidential election in 2014.
"We are trying very hard to increase the confidence of the public to increase the legitimacy of the elections," Sayad said.
Comments will be moderated. Keep comments relevant to the article. Remarks containing abusive and obscene language, personal attacks of any kind or promotion will be removed and the user banned. Final decision will be at the discretion of the Taipei Times.