Mexico hopefuls start campaigns for presidency
Mexico's top presidential candidates on Sunday launched their campaigns, vowing to take a harder line against US President Donald Trump, with the leftist front-runner saying that his country is done being the US president's pinata.
Just as candidates were putting the finishing touches on their opening campaign speeches for Mexico's July 1 elections, Trump gatecrashed the launch party via Twitter, accusing the country of doing "very little" to stop illegal migration and drugs, and renewing his threat to axe the North American Free Trade Agreement (NAFTA).
The veteran leftist leading in the polls, National Regeneration Movement candidate Andres Manuel Lopez Obrador, and his conservative rival, former National Action Party president Ricardo Anaya, both hit back at Trump, whose anti-Mexican diatribes and insistence that Mexico pay for his planned border wall have made him supremely unpopular.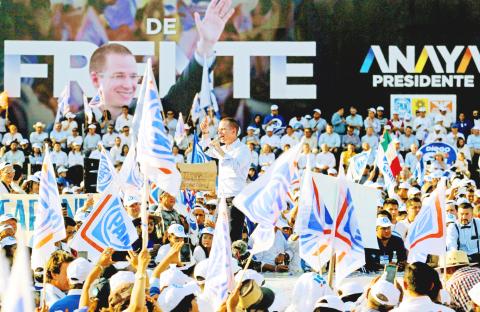 Mexican presidential candidate Ricardo Anaya speaks to supporters during his second campaign rally, in Celaya, Guanajuato State, Mexico, on Sunday. The campaigns for Mexico's July 1 presidential election officially launched on Friday last week.
Photo: AFP
"Neither Mexico nor its people will be the pinata of any foreign government," Lopez Obrador told a cheering crowd in Ciudad Juarez, on the US border.
Lopez Obrador, a former Mexico City mayor, repeated his long-standing criticism of Trump's idea of a border wall.
"Let this be heard near and far: Neither security issues nor social problems can be resolved with walls," he said, condemning Trump's "mistaken foreign policy" and "contemptuous attitude toward Mexicans."
Anaya, who is locked in a brutal battle for second place with Jose Antonio Meade, the candidate for the ruling Institutional Revolutionary Party (PRI), vowed to answer Trump with a "strong and dignified stance."
He defied the US president to take action on security issues on his own side of the border.
"Just as the United States is worried about undocumented migrants, Mexico is worried about gun trafficking," he said. "Eighty percent of the guns used to kill people in our country come from the United States."
A wave of drug cartel-fueled violence has left more than 200,000 people dead in Mexico since 2006.
Trump's Twitter comments were an apparent response to news reports about a caravan of hundreds of people, including Central Americans, heading toward the US border in what they are calling a "migrant via crucis" ("way of the cross").
Earlier on Sunday, Fox and Friends, one of Trump's favorite TV shows, highlighted the caravan on Twitter, possibly drawing the president's attention.
"Mexico is doing very little, if not NOTHING, at stopping people from flowing into Mexico through their Southern Border, and then into the US," he wrote. "They must stop the big drug and people flows, or I will stop their cash cow, NAFTA. NEED WALL!"
Mexico ships about 80 percent of its exports to the US under NAFTA, which also includes Canada.
Mexican Secretary of Foreign Affairs Luis Videgaray also reacted defensively, saying that Trump's tweets were based on an "inaccurate news report."
Lopez Obrador, who is making his third bid for the presidency, has emerged as the man to beat in the race to succeed deeply unpopular Mexican President Enrique Pena Nieto.
Recent polls for the single-round election give him just more than 40 percent of the vote, with Anaya and Meade in the 20s.
Criticized for what opponents call a radical and intolerant side, Lopez Obrador has sought to steer clear of controversy this time and soothe fears that he would wreck Latin America's second-largest economy.
Lopez Obrador, 64, reiterated his criticism of NAFTA and free trade in his opening speech, but said he was not against a new deal — although he said it should be signed after the election.
His major reform would be "a government that will no longer serve a greedy minority," he said.
Meade, 49, also hammered home on the political corruption that has long dogged Mexico, trying to distance himself from the scandals that have tarnished Pena Nieto and the PRI — which chose him as its candidate, even though he is not a party member.
"Mexicans are fed up with corruption. I will be relentless in fighting it," Meade, a respected former finance minister, told a rally in Merida, on the Yucatan Peninsula.
Anaya, 39, meanwhile homed in on the brutally violent crime plaguing the country.
"Our number one priority will be to restore peace and tranquility," he said.
Comments will be moderated. Keep comments relevant to the article. Remarks containing abusive and obscene language, personal attacks of any kind or promotion will be removed and the user banned. Final decision will be at the discretion of the Taipei Times.