Israel shrugs off calls for probe into Gaza violence
Israel on Sunday rejected international calls for an investigation into deadly violence along the Gazan border, saying Israeli soldiers acted appropriately and fired only at Palestinian protesters who posed a threat.
Fifteen Palestinians were killed and more than 700 were wounded in Friday's violence near the border, Palestinian health officials said.
It was the area's deadliest violence since a war four years ago.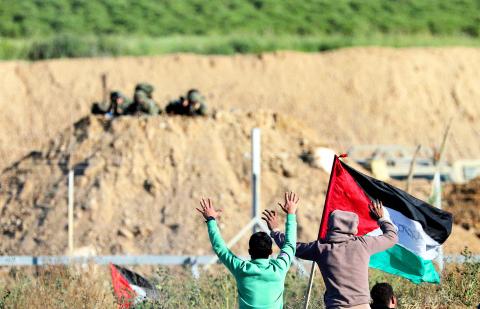 Palestinian protesters wave to Israeli soldiers during clashes along the border between Israel and the Gaza Strip on Sunday.
Photo: EPA
Rights groups have accused the Israeli army of using excessive force, and the UN secretary-general and the EU's foreign policy chief have urged an investigation.
In an interview, Israeli Minister of Defense Avigdor Lieberman said Israel would not cooperate with a UN inquiry if there were one.
"From the standpoint of the Israeli soldiers, they did what had to be done," Lieberman told Israeli Army Radio. "I think that all of our troops deserve a commendation, and there won't be any inquiry."
Friday's mass marches were largely led by Gaza's ruling Hamas group and touted as the launch of a six-week-long protest campaign against a stifling decade-old blockade of the territory.
Israel and Egypt have maintained the blockade since Hamas, a Muslim militant group sworn to Israel's destruction, seized control of Gaza in 2007.
In Friday's confrontations, large crowds gathered near the fence, with smaller groups of protesters rushing forward, throwing stones and burning tires.
Israeli troops responded with live fire and rubber-coated steel pellets, while drones dropped tear gas from above. Soldiers with rifles were perched on high earthen embankments overlooking the scene.
Protests have continued since Friday, but at a far smaller scale.
On Sunday, one person was seriously wounded by gunfire, Palestinian medical officials said.
The military has said it responded only to violent attacks aimed at troops and the border fence.
However, video from the scene showed at least a handful of incidents, in which people appear to have been shot either far from the border or while they were not actively rioting.
In one video that spread on social media, a young man was fatally shot from behind while running away from the border area carrying a tire.
The Israeli military accused Hamas of releasing videos that were either incomplete, edited or "completely fabricated."
It said troops had followed strict rules of engagement, and that protesters were putting themselves in "harm's way" by operating in a dangerous area.
In the case of the man with the tire, the army said the video told only part of the story, and said he was a Hamas militant who had been involved in violence just moments before he was shot.
It gave no additional evidence to support the claims.
Lieberman said those who protested peacefully were not harmed, saying claims that peaceful protesters were harmed were "lies and inventions."
"Whoever didn't get close to the fence was not shot," he said.
The Israeli military has said those killed by troops were men who were involved in violence and who belonged to Hamas and other militant factions.
The Israeli army later released the names and ages of 10 of the dead, including what it said were eight members of Hamas and two from other militant groups.
It also accused Gaza health officials of exaggerating the number of wounded.
Four of the 15 dead were members of the Hamas military wing, Hamas said on Saturday.
The group said a fifth member who was not on the Palestinian Ministry of Health list was killed near the border.
It said another man is also missing in the border area.
Comments will be moderated. Keep comments relevant to the article. Remarks containing abusive and obscene language, personal attacks of any kind or promotion will be removed and the user banned. Final decision will be at the discretion of the Taipei Times.