World News Quick Take
JAPAN
Crowds crowd for view
Cherry blossoms have reached full bloom in Tokyo as spring-like weather descends on the city. Crowds yesterday flocked to popular spots around the nation to enjoy the sea of delicate pink and white blooms. Some laid down picnic sheets at Shinjuku Gyoen, a former imperial garden in the heart of Tokyo, to enjoy hanami, the custom of blossom viewing. "There are of course so many beautiful flowers, but nothing compares to the cherry blossom," said Hiroko Igarashi, who strolled a walkway along the Meguro River. The bloom in Tokyo is expected to last until the end of this week.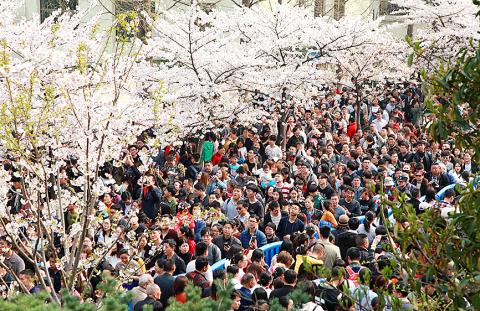 Photo: Reuters
AUSTRALIA
Turnbull sinks in polls
Prime Minister Malcolm Turnbull's coalition government yesterday lost its 29th straight Newspoll, putting him in an increasingly precarious position as his party attempts to push corporate tax cuts through parliament. The poll published in the Australian newspaper shows the Liberal-National coalition trailing the opposition Labor Party 47-53 on a two-party preferred basis The result leaves Turnbull just one poll away from a symbolically significant 30th poll loss, which he cited as one of his reasons for toppling former prime minister Tony Abbott in a party room spill in September 2015.
SOUTH KOREA
Moon proposes reform
President Moon Jae-in yesterday proposed weakening the powers of his office and lowering the voting age in a package of constitutional reforms, while allowing the head of state to be re-elected. Moon's plan has to be approved by parliament before being put to a referendum in June, and its centerpiece measure would see the single five-year presidency be reduced to a four year term, with one opportunity to stand for re-election. Supporters say two four-year terms would encourage longer-range thinking in the presidential Blue House, while driving incumbents to the center ground to preserve their chances of re-election. The changes would only come into effect at the next election, and so would not apply to Moon.
SOUTH KOREA
Salute before repatriation
A Chinese officer yesterday saluted as the remains of 20 Chinese Korean War dead were arrayed in a military facility in Incheon ahead of their return home tomorrow. The remains being sent back this week were exhumed last year from multiple sites in Gangwon Province, a Ministry of National Defense spokesman said. It will be the fifth annual return under a 2013 agreement which has so far seen 569 sets of remains sent back.
SOUTH KOREA
North not a Psy fan
Seoul is pushing for Gangnam Style star Psy to perform in next week's historic concerts by southern artists in Pyongyang, media reports said, but North Korea is not so keen. A team of at least nine pop acts is set to head North next week for two concerts in Pyongyang. "We have formally proposed to the North to add Psy to the lineup," Seoul's MBC TV station late on Sunday quoted a Seoul government official as saying. However, Pyongyang opposed the idea, it said, adding the North was apparently concerned about the singer's provocative performance style.
UNITED STATES
Learn CPR, students told
Former senator Rick Santorum on Sunday said that students who have rallied for gun control should instead learn cardiopulmonary resuscitation (CPR) or find their own way to prevent a school shooting. "How about kids instead of looking to someone else to solve their problem, do something about maybe taking CPR classes or trying to deal with situations that when there is a violent shooter that you can actually respond to that," the Republican said on CNN's State of the Union. Students could work to stop bullying in their communities or respond themselves to a shooter instead of asking lawmakers to approve legislation to protect them, he said.
UNITED KINGDOM
Jewish groups pan Corbyn
Leaders of Jewish organizations yesterday blasted Labour leader Jeremy Corbyn in an extraordinary letter, saying that he had sided with anti-Semites "again and again" and now "enough is enough." The open letter from the Board of Deputies of British Jews and the Jewish Leadership Council said Corbyn was "repeatedly found alongside people with blatantly anti-Semitic views," but "claims never to hear or read them." The organizations were set to protest outside parliament in London before delivering the letter to a meeting of Labour lawmakers. Corbyn said he would meet Jewish community representatives in the coming days to rebuild its confidence in his party.
FRANCE
Man arrested over tweet
A left-wing politician has been arrested over a tweet apparently celebrating the death of Lieutenant-Colonel Arnaud Beltrame, who was hailed a hero after he took the place of a hostage and was killed by a militant. Police on Sunday arrested Stephane Poussier at his home in Dives-sur-Mer after he sent two tweets welcoming the policeman's death. "Whenever a policeman is shot ... I think of my friend Remi Fraisse," Poussier said on Twitter, referring to an environmental activist killed by a stun grenade fired by police during a 2014 protest over a dam. "And this time it was a colonel, great! Additionally, it means one less Macron voter," he added.
MEXICO
Twitter to aid in elections
Twitter has signed an agreement with the National Electoral Institute to distribute official information during the lead-up to July's general elections. The institute already has a similar accord with Facebook and is preparing another with Google in a bid to fight the spread of false information. A statement released on Sunday by the institute said the three presidential debates would be broadcast via the Periscope platform as part of the deal. It emphasized the agreement "in no way implies sharing or making use of personal data with any of the parties."
CANADA
Waiter too French for diners
A French waiter fired for being "aggressive, rude and disrespectful" said hat his behavior was not out of line — he is simply, well, French. Guillaume Rey, who worked at a Vancouver restaurant, filed a complaint with British Columbia's Human Rights Tribunal against his former employer, claiming "discrimination against my culture." The restaurant accused Rey of violating its code of conduct and said he persisted in his behavior, despite verbal and written performance reviews. In alleging discrimination Rey said French culture just "tends to be more direct and expressive." Both parties agreed Rey performed well at his job, despite his allegedly disagreeable demeanor.
Comments will be moderated. Keep comments relevant to the article. Remarks containing abusive and obscene language, personal attacks of any kind or promotion will be removed and the user banned. Final decision will be at the discretion of the Taipei Times.