Catalans protest ex-leader's arrest
Former Catalan president Carles Puigdemont was yesterday due to appear in a German court as Spain sought to extradite him over the region's independence fight after a night of protests there, in which dozens of people were hurt in clashes with police.
Puigdemont was on Sunday detained in the northern German state of Schleswig-Holstein, five months after going into self-imposed exile from Spain, where he faces charges of sedition, rebellion and embezzlement, which could lead to 25 years in prison.
Puigdemont had entered Germany from Denmark on Friday after leaving Finland, where he had attended a conference.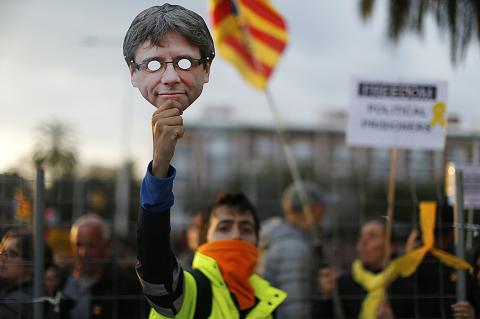 A demonstrator holds up a mask of former Catalan president Carles Puigdemont during a protest in Barcelona on Sunday.
Photo: AP
A demonstration in Barcelona against his arrest by tens of thousands of Catalans tipped over into clashes on Sunday night.
Outside the central government offices in the Catalan capital, riot police beat flag-waving protesters back with batons, leaving several with blood streaming down their foreheads.
Three protesters were arrested and 50 suffered minor injuries, police said.
The Spanish Supreme Court ruled on Friday that 25 Catalan leaders, including Puigdemont, would be tried for rebellion, embezzlement or disobeying the state relating a referendum held in Catalonia in October last year, which called for the wealthy northeastern region to separate from Spain.
Madrid deemed the referendum, which was widely boycotted by opponents of independence, illegal and took over direct rule of Catalonia following a symbolic declaration of independence by the Catalan parliament.
The court has also reactivated international arrest warrants for four other politicians who went into self-imposed exile last year.
Puigdemont and fellow separatists have all denied any wrongdoing.
It ordered five separatist leaders, including the latest candidate to become regional president, Jordi Turull, to be jailed pending their trial.
Madrid's forceful legal moves deal a potentially fatal blow to the independence movement and signal an end to one of the country's worst political crises since the return of democracy four decades ago, although separatist sympathies are likely to simmer.
Puigdemont was to appear before a regional court in the northern German town of Neumuenster where a judge was expected to decide whether he would remain in custody.
Another court, the Higher Regional Court in the town of Schleswig, would be responsible for deciding whether to grant Spain's extradition request.
German prosecutors have said the whole legal process, including possible appeals, could take several days if not weeks.
Puigdemont, who has been living in Brussels since leaving Spain, does not plan to apply for political asylum in Germany, his lawyer Jaume Alonso-Cuevillas yesterday told Catalan radio.
The 55-year-old former journalist is unlikely to find much support among German politicians who have largely backed Spanish Prime Minister Mariano Rajoy's crackdown on Catalan separatism.
In comments published yesterday, Elmar Brok, a German member of the European Parliament and close ally of German Chancellor Angela Merkel's conservatives, said that Puigdemont had "clearly violated Spanish law and the Spanish constitution."
"He would be well-advised to end the matter peacefully," Brok told regional newspaper Neue Osnabruecker Zeitung.
Brok said that the quest of the Catalans for independence was hopeless and that Madrid and Barcelona should instead start negotiations about an improved autonomous status.
German Minister of Justice Katarina Barley on Sunday told ARD broadcaster the extradition question would be handled by regional courts and she saw no need for Berlin to intervene for now.
European governments, some of whom face separatist movements of their own, have generally been supportive of the Spanish government.
In Edinburgh, the Scottish government, which advocates independence from the UK, said it would cooperate with Madrid over a request to extradite former Catalan minister of education Clara Ponsati.
Comments will be moderated. Keep comments relevant to the article. Remarks containing abusive and obscene language, personal attacks of any kind or promotion will be removed and the user banned. Final decision will be at the discretion of the Taipei Times.