Peruvian VP to fill leadership role as president resigns
Peruvian vice president Martin Vizcarra, catapulted from the relative obscurity of a diplomatic post in Canada, was yesterday to be sworn-in as Peruvian president to replace Pedro Pablo Kuczynski, forced to resign over corruption allegations.
Vizcarra, ambassador to Canada as well as being his country's first vice president, was due to arrive in Lima in the early hours yesterday and be sworn-in before Congress later in the day.
"I am indignant at the current situation, like the majority of Peruvians," he said on Twitter, adding that he is "at the disposal of the country" before flying to Lima.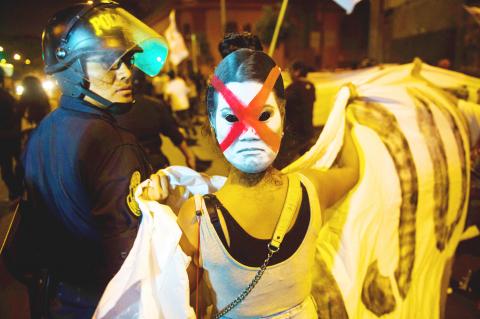 A woman wears a crossed out mask of Peruvian congresswoman Keiko Fujimori, daughter of former Peruvian president Alberto Fujimori, during a protest against political corruption in Lima on Thursday.
Photo: AFP
Vizcarra, who turned 55 on Thursday, stepped forward to fill the gap left by Kuczynski's resignation and avoid the need for early elections at a time of widespread voter discontent after a series of political scandals.
He would hold the post until July 2021, when Kuczynski's mandate was due to end.
Meanwhile, instead of an expected impeachment vote for Kuczynski, Peruvian lawmakers were debating the 79-year-old's resignation late into Thursday night.
They were to vote yesterday whether to accept it and forgo the need for an impeachment.
"This is not a happy day for the country. It is not a day we are proud of. It is a difficult and complicated day," opposition lawmaker Victor Andres Belaunde told the Congress.
Outgoing Peruvian Minister of Economy and Finance Claudia Cooper said Vizcarra would inherit "an economy with growth that is the highest in the region."
Cooper resigned in solidarity with Kuczynski.
Analysts predict Peru's economy would grow by more than 2 percent this year.
Ratings agency Standard & Poor's said Peru's ratings were not immediately affected by the resignation.
However, it said Vizcarra "will need to forge alliances in the Congress to avoid recurrent conflicts and move ahead with the government's existing spending agenda."
Kuczynski stepped down when it became clear he could not survive the impeachment vote, over his links to Brazil's construction giant Odebrecht Organization.
Odebrecht in December last year revealed that it had paid about US$5 million for advice from companies linked to him when he was minister.
The Brazilian company has admitted that it made campaign contributions between 2006 and 2011 to the last four presidents.
A vote to reject the resignation would mean Congress is to going ahead with the impeachment vote, which would be a humiliation for Kuczynski.
Comments will be moderated. Keep comments relevant to the article. Remarks containing abusive and obscene language, personal attacks of any kind or promotion will be removed and the user banned. Final decision will be at the discretion of the Taipei Times.