Brands mum on palm oil sources, Greenpeace says
Household brands, including PepsiCo and Johnson & Johnson, are refusing to disclose where they get their palm oil from, despite vows to stop buying from companies that cut down tropical forests to grow the widely used commodity, Greenpeace has said.
The group yesterday said that in January it asked 16 major brands to reveal their suppliers of palm oil, which is mainly grown in Indonesia and Malaysia and used in a slew of consumer products from snacks to cosmetics.
Eight disclosed the information and eight refused, it said.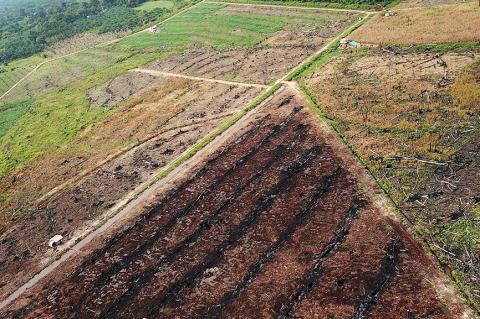 A patch of land that had been burnt in preparation for a new palm oil plantation is pictured in the Rawa Singkil Wildlife Reserve in South Aceh, Indonesia, on March 3.
Photo: AFP
Greenpeace said that adds to concerns international consumer goods companies are "way off track" in meeting a 2010 commitment to remove deforestation-linked palm oil from their supply chains by 2020.
"Corporate commitments and polices have proliferated, but companies have largely failed to implement them," it said.
Colgate-Palmolive, General Mills, Mars, Mondelez, Nestle, Procter & Gamble, Reckitt Benckiser and Unilever agreed to publicly disclose the mills that produce the palm oil they buy and the names of groups that control the mills.
Ferrero, Hershey, Kellogg's, Kraft Heinz, Johnson & Johnson, PepsiCo, PZ Cussons and Smucker refused to provide the information, Greenpeace said
Globally, four industries — palm oil, soya, logging and cattle rearing — are the biggest destroyers of the virgin forests that are a crucial buffer against the rise in global temperatures.
Indonesia, which has overtaken Brazil as the country cutting down its forests at the fastest rate, lost 24 million hectares of rainforest between 1990 and 2015, Greenpeace said, citing government data.
"Alarmingly, the destruction of Indonesia's rainforests for palm oil shows no signs of slowing down," the group said.
Groups representing the palm oil industry in Indonesia and Malaysia contend that much of the opposition to palm oil is a protectionist effort by rival industries in Western nations.
They point to an initiative known as the Roundtable on Sustainable Palm Oil as evidence they are taking conservation and other commitments seriously.
Comments will be moderated. Keep comments relevant to the article. Remarks containing abusive and obscene language, personal attacks of any kind or promotion will be removed and the user banned. Final decision will be at the discretion of the Taipei Times.