Aum cult hanging in, like its leader
FEARS OF THE END: Opinions are divided about whether the execution of Aum Shinrikyo's leader, which is rumored to be impending, would strengthen or weaken its appeal
More than two decades after Japan's Aum Shinrikyo cult plunged Tokyo into terror by releasing a nerve agent on rush-hour metro trains, its spinoffs continue to attract new followers.
Cult head Shoko Asahara is on death row, along with 12 of his disciples, for crimes including the metro attack, which killed 13 people and injured thousands.
He was arrested in 1995 in the wake of the sarin attack, but the Aum cult survived the crackdown, renaming itself Aleph and drawing new recruits into its fold.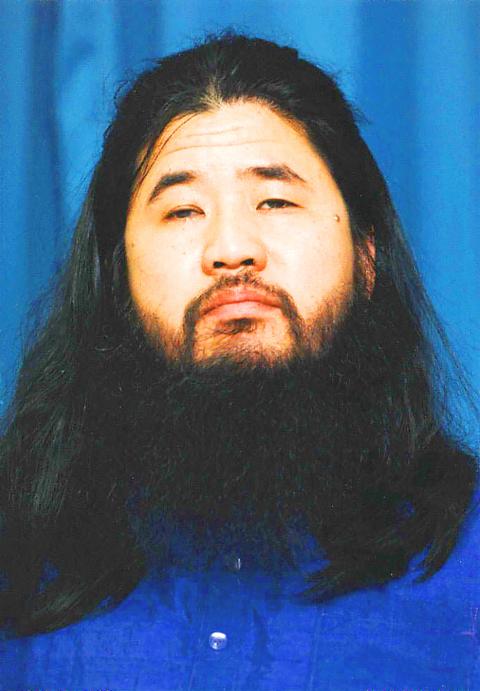 Shoko Asahara, guru of the Aum Shinrikyo doomsday cult, is pictured in October 1990.
Photo: AFP
Aleph officially renounced ties to Asahara in 2000, but the doomsday guru retains significant influence, the Japanese Public Security Intelligence Agency said.
"[Aleph] is a group that firmly instructs its followers to see Asahara as the supreme being," an agency investigator told reporters, speaking on condition of anonymity.
"If someone says 'guru Asahara wants to bring down Japan,' there would be followers who would act. The group poses such a potential danger," he said.
Raids on Aleph facilities have found recordings of his teachings, as well as a device used by the Aum cult known as a "Perfect Salvation Initiation," a type of headgear that emits weak electric currents which members believe connects them to Asahara's brainwaves.
Aleph and other splinter groups, which deny links to Asahara despite the claims of authorities, have 1,650 members in Japan and hundreds more in Russia, the agency said.
It said the groups attract about 100 new followers annually via yoga classes, fortune telling and other activities that do not mention the cult's name, often targeting young people who do not remember the 1995 subway attack.
"Young female followers go to 'training' places with their children ... We are worried there is an increasing number of children who have been inculcated by the Aum since they were very young," the investigator said.
Asahara and his wife Tomoko had four daughters and two sons, and most of the family remains within the cult.
In early March, on Asahara's 63rd birthday, investigators were keeping their usual close eye on the headquarters of an Aum splinter group in a quiet Tokyo residential area.
"We are not marking the day in any way," said Akitoshi Hirosue, deputy head of the Hikarinowa ("Circle of Rainbow Light") group. "We actually think Asahara should be executed."
Hikarinowa split from Aleph in 2007 under the leadership of flamboyant former Aum spokesman Fumihiro Joyu and now has about 100 to 150 members.
"As long as the death penalty is not implemented against him, Asahara is the 'savior exempt from execution' and helps Aleph win more followers," Joyu has said in arguing for the death of his former guru.
Aleph training halls are closed to media and the group did not respond to enquiries.
Taro Takimoto, a lawyer who has helped relatives of cultists for decades, supports capital punishment for Asahara, but not the 12 other members on death row, who he says only acted as "limbs" of the guru.
He fears the 12 members would "become martyrs" if executed, only boosting cult recruitment.
Seven of those on death row were moved to different prison facilities in recent days, prompting speculation that they could soon be executed. It was not clear whether Asahara was among them.
Asahara's execution might draw a line under the Aum's crimes for some Japanese, but Takimoto warns it could also trigger suicides among his followers and lead to the appointment of a successor guru.
A leading candidate is Asahara's second son, Takimoto said.
"If the second son, bearing Asahara's ashes, declares himself 'guru,' he would gain serious religious authority," opening a new chapter on the cult, Takimoto said.
Comments will be moderated. Keep comments relevant to the article. Remarks containing abusive and obscene language, personal attacks of any kind or promotion will be removed and the user banned. Final decision will be at the discretion of the Taipei Times.