How canned soup could be fueling N Korean air force
Is North Korea's air force selling canned soup and taxi rides to upgrade its runways and airstrips?
Amid the toughest sanctions ever against the North, there are some compelling reasons to believe the answer might well be yes.
The story of how — and why — offers some insight into how North Korea's economy functions under North Korean leader Kim Jong-un.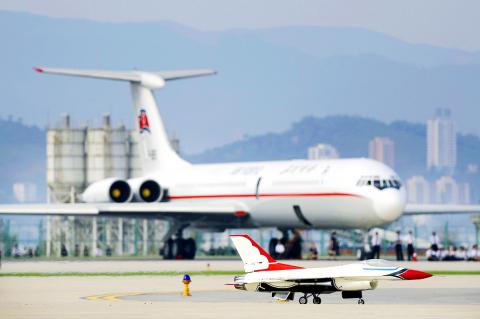 A remote-controlled F-16 jet lands in front of an Air Koryo airplane at Kalma Airport after a flight demonstration in Wonsan, North Korea, on Sept. 25, 2016.
Photo: AP
There is a fine line between the North's military and its private sector. To augment the huge share of the country's limited resources earmarked for defense, North Korean military units control everything from restaurants to farms, and flagship airline Air Koryo, which has become one of the country's most recognizable brands.
With only a dozen or so active-use aircraft operating on limited routes to China and the Russian Far East, it is hard to imagine it has ever been much of a moneymaker for Pyongyang in the conventional, ticket-sales sort of way.
However, it is a symbol of national prestige and serves as a key lifeline to the outside world, transporting people and loads of precious — often not-very-closely scrutinized — cargo.
Air Koryo runs at least one gas station and car wash in Pyongyang, has its own fleet of taxis and operates several retail shops, including a boutique at the airport.
At the relatively upscale Potonggang Department Store in central Pyongyang, whole aisles are devoted to Air Koryo brand products, from crates of liquor to rows of Coke-like sodas and a half-dozen varieties of canned goods, including pheasant soup and canned peaches.
The airline's moves mirror broader shifts in the North Korean economy, which is still socialist and technically centrally controlled, but under Kim has shifted rapidly toward capitalist-style entrepreneurialism.
At the grassroots level, street vendors and small, bazaar-style markets are common. Higher up, state-run enterprises are adapting to become more productive and profitable — quite possibly because the regime, pinched by sanctions and shrinking trade possibilities, cannot afford to prop them up anymore.
It is not just Air Koryo: Naegohyang, a major producer of cigarettes including the luxury 7.27 brand reportedly favored by Kim himself, has begun pushing its own line of sporting goods. They are sold alongside Nike, Adidas and other pricey imports at its flagship stores near Pyongyang's diplomatic quarter and in the exclusive Scientists' Street district, a neighborhood built to reward the country's scientists and technicians.
Air Koryo got a big boost with Kim's decision to completely overhaul Pyongyang Sunan International Airport, which opened a new terminal in 2015. The next year, Air Koryo started its taxi service. The Air Koryo soft drink line was launched in 2016. A gas station and car wash followed last year.
It is impossible to say how profitable those initiatives have been, but the swelling variety of the goods and their ready availability in the capital and elsewhere is undeniable.
The appearance of a subsidiary company, Korea Hanggong Trading, at recent trade fairs suggests Air Koryo might be considering an export business, something of a stretch with sanctions aimed at cutting off the North's ability to fund its nuclear program.
Curtis Melvin, a researcher at the US-Korea Institute at Johns Hopkins University and editor of the North Korean Economy Watch blog, describes the airline as a "wholly owned subsidiary" of the air force, which is using its consumer goods business to help finance reconstruction of its own infrastructure, including runway renovations and new revetments at remote highway airfields.
Selling Air Koryo-labelled products made by military factories could help the air force boost revenue outside of its official budget allocations, Melvin said.
A new Air Koryo headquarters has been built near the international airport, he said.
"For ... years, North Korea has tried to turn its subsidy-dependent, state-owned enterprises into profitable operations that pay 'taxes,'" Melvin said in an e-mail. "Maybe Air Koryo's time has simply come."
Air Koryo's connection to the military is not immediately obvious and is often overlooked, but a 2014 UN Panel of Experts' report said the airline, all airports and airfields in North Korea are controlled by the Korean People's Air Force through its Civil Aviation Bureau.
The report added that the airline's personnel are believed to be members of the air force and "all in-country maintenance is conducted by air force engineering staff."
That makes it a natural target for sanctions, another incentive for diversification.
Although Washington-backed efforts to blacklist the airline entirely have failed, the US Department of the Treasury in 2016 slapped sanctions on Air Koryo for doing a flyover during a 2013 military parade and for transporting spare parts used in Scud-B missile systems, among other things.
The listing does not ban Americans from flying on Air Koryo, but restricts them from doing other kinds of business with it.
The UN, meanwhile, has warned that "considering the control over and use by the air force of Air Koryo's aircraft," member states could be in violation of its arms embargo on the North should they engage with the airline in anything from financial transactions to technical training.
Comments will be moderated. Keep comments relevant to the article. Remarks containing abusive and obscene language, personal attacks of any kind or promotion will be removed and the user banned. Final decision will be at the discretion of the Taipei Times.