Hundreds of migrants picked up off Libya
International charity ships and Libya's coast guard picked up several hundred migrants on Saturday as smugglers trying to take advantage of calm seas launched a flurry of boats toward Italy.
Libyan coast guard vessels intercepted three migrant boats, the first an inflatable dinghy that had broken down with 125 people on board off Zawiya, Libya, just west of the capital, Tripoli, coast guard spokesman Ayoub Qassem said.
The second boat was turned back off Garabulli, east of Tripoli, and had 112 people on board, while a third boat with 98 migrants on board was intercepted off Abu Kamash, near Libya's border with Tunisia.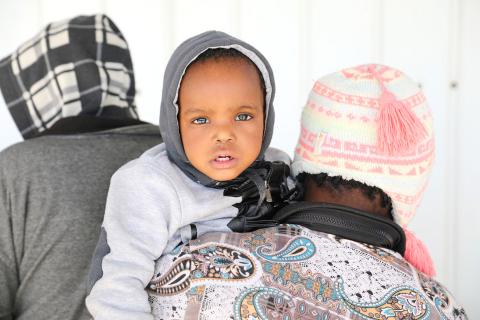 A migrant carries a child at a naval base after they were rescued by the Libyan coast guard in Tripoli, Libya, on Saturday.
Photo: Reuters
One boat with more than 100 migrants on board made it as far as the Aquarius rescue ship about 34km from the coast to the west of Tripoli. The ship was preparing to transfer the migrants to Italy.
Rescuers on board the Aquarius said the migrant boat was on the verge of completely sinking when it reached them. More than half the migrants on it were Nigerians, with the rest from other sub-Saharan African countries as well as two Palestinians.
"All but one of the five balloons holding the boat up were either completely deflated or deflating and there were still about 120 people inside the boat, so a very, very precarious condition," said Max Avis, one of the rescuers.
One of the Palestinians was thrown into the water by other migrants after trying to convince them that they would be better off being saved by a nearby Libyan coast guard boat than drowning, rescuers said.
Libya is the main departure point for migrants attempting to reach Europe by sea. More than 600,000 migrants have crossed the central Mediterranean to Italy over the past four years as people smugglers took advantage of a security vacuum in Libya. Thousands more perished at sea.
Since last summer, the rate of departures dropped sharply after smugglers in the Libyan town of Sabratha struck a deal with the Tripoli government to halt their activities and were then pushed from the town by rival armed groups.
Libya's EU-backed coast guard has also stepped up interceptions, often cutting migrant boats off before they can reach international vessels that would take them to Europe.
Two other groups of migrants were transferred to the Aquarius late on Saturday, including 62 who had been picked up by a merchant ship in offshore oil fields and 106 others from another charity vessel.
Meanwhile, the coast guard in Zuwara, a former Libyan smuggling hub west of Zawiya, said they had foiled a departure during the night and arrested some migrants while others had escaped with smugglers.
The coast guard posted pictures of detained sub-Saharan African migrants sitting in an inflatable rubber boat on the beach in the dark.
Comments will be moderated. Keep comments relevant to the article. Remarks containing abusive and obscene language, personal attacks of any kind or promotion will be removed and the user banned. Final decision will be at the discretion of the Taipei Times.