Putin 'couldn't care less' about US election poach
Russian President Vladimir Putin said in an interview released on Friday that he "couldn't care less" if fellow Russian citizens sought to meddle in the 2016 US presidential election, insisting such efforts could not be tied to the Kremlin.
"Why have you decided the Russian authorities, myself included, gave anybody permission to do this?" Putin asked in the often-combative interview with NBC television.
Special Counsel Robert Mueller is conducting a wide-ranging investigation to determine whether US President Donald Trump's campaign colluded with Moscow to help elect him.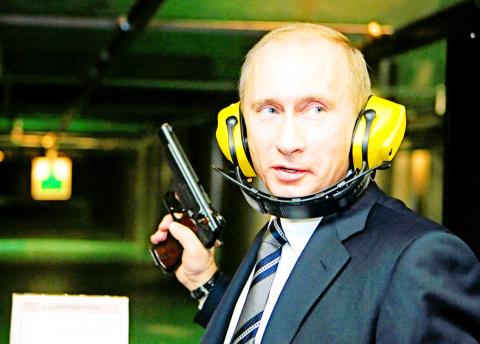 Russian President Vladimir Putin holds a gun at a shooting gallery in the General Staff of the Armed Forces of the Russian Federation building in Moscow on Nov. 8, 2006.
Photo: Reuters
Last month Mueller indicted 13 Russian nationals and three Russian companies for allegedly backing Trump's campaign, maligning his Democratic rival Hillary Rodham Clinton and engaging in other election interference.
"So what if they're Russians?" Putin said of the allegations. "There are 146 million Russians. So what? ... I don't care. I couldn't care less ... They do not represent the interests of the Russian state."
Mueller issued a 37-page indictment against the Russians, but Putin indicated he has seen no evidence thus far that the alleged meddling broke any US law.
"Are we the ones who imposed sanctions on the United States? The US imposed sanctions on us," he said. "We in Russia cannot prosecute anyone as long as they have not violated Russian law ... At least send us a piece of paper ... Give us a document. Give us an official request. And we'll take a look at it."
The US' leading intelligence agencies last year concluded that Putin had directed a broad intelligence effort to influence the US election to undermine Clinton's campaign and boost Trump's chances, but Trump has repeatedly denied colluding with Moscow.
The Russian leader also rejected those assessments.
"Could anyone really believe that Russia, thousands of miles away ... influenced the outcome of the election? Doesn't that sound ridiculous even to you?" Putin asked.
US Deputy Attorney General Rod Rosenstein, when he announced the Russian indictment, said it made no judgement on whether the alleged Russian propaganda campaign altered the outcome of the election which Trump won.
"It's not our goal to interfere. We do not see what goal we would accomplish by interfering. There's no goal," Putin said.
Trump himself has repeatedly shied away from condemning Russia over the alleged meddling.
Comments will be moderated. Keep comments relevant to the article. Remarks containing abusive and obscene language, personal attacks of any kind or promotion will be removed and the user banned. Final decision will be at the discretion of the Taipei Times.