Tibetan self-immolation in Sichuan Province reported
A man set himself on fire and died in China's Sichuan Province in the first self-immolation protest among Tibetans this year, monitoring groups reported yesterday.
Tsekho Tugchak, reportedly in his 40s, died in Ngaba County on Wednesday amid intensified security in the restive region ahead of the anniversary of a 2008 anti-China riot and 1959 independence uprising in Tibet, the International Campaign for Tibet said, adding that his death was the 153rd self-immolation by a Tibetan since the protests began in 2009.
The Free Tibet Campaign and US-backed Radio Free Asia also reported the death, saying it took place in Ngaba's Meruma Township.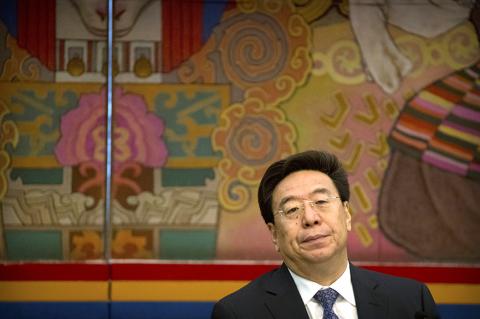 Chinese Communist Party Secretary of the Tibet Autonomous Region Wu Yingjie attends a group discussion held on the sidelines of the National People's Congress in the Tibet Hall of the Great Hall of the People in Beijing yesterday.
Photo: AP
In Beijing, Chinese Communist Party Secretary of the Tibet Autonomous Region Wu Yingjie (吳英杰) dismissed the reports.
"I don't think they're telling the truth," Wu told reporters at a meeting on the sidelines of the National People's Congress annual session.
"If such self-immolations happened in the US, it really would not be that weird, but I can tell you that in Tibet, these kinds of self-immolation incidents do not happen," Wu said.
The self-immolations by Tibetans monks, nuns and lay people aim to highlight harsh Chinese rule and the oppression of Tibet's Buddhist culture, as well as appeal for the return of exiled spiritual leader, the Dalai Lama.
The region is closed to foreign media, making it virtually impossible to confirm reported self-immolations.
Staff members reached at police headquarters, government offices and the local propaganda department in Ngaba denied having knowledge of the case.
China claims that Tibet's traditional territory, including Ngaba, has been part of its territory for more than seven centuries.
Many Tibetans say they were essentially independent for most of that time and have protested what they regard as China's heavy-handed rule imposed after the People's Liberation Army's battled its way into the Himalayan region in 1950.
Comments will be moderated. Keep comments relevant to the article. Remarks containing abusive and obscene language, personal attacks of any kind or promotion will be removed and the user banned. Final decision will be at the discretion of the Taipei Times.