Guatemala to follow US in Israel embassy move
Guatemala will move its embassy in Israel to Jerusalem from Tel Aviv in May, two days after the US embassy makes the same move, Guatemalan President Jimmy Morales said on Sunday at a conference in Washington.
"I would like to thank [US] President [Donald] Trump for leading the way. His courageous decision has encouraged us to do what is right," Morales said in a speech at the American Israel Public Affairs Committee's annual policy conference, according to a translation of his remarks on the pro-Israel US lobbying group's Web site.
Guatemala was one of only a handful of countries that backed Trump's December decision to recognize Jerusalem as the capital of Israel.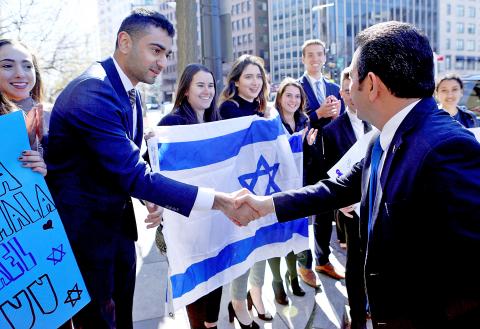 Guatemalan President Jimmy Morales, right, greets members of the Israeli community in Washington in a handout photo provided by the Guatemalan presidency on Sunday.
Photo: Reuters
Trump's move reversed decades of US policy, upsetting the Arab world and Western allies.
Afterward, 128 countries backed a nonbinding UN General Assembly resolution calling for the US to drop its recognition of Jerusalem.
The status of Jerusalem is one of the thorniest obstacles to forging a peace deal between Israel and the Palestinians, who want East Jerusalem as their capital.
The international community does not recognize Israeli sovereignty over the entire city, home to sites holy to the Jewish, Christian and Muslim religions.
The US is an important source of assistance to Guatemala, and Trump had threatened to cut off financial aid to countries that supported the UN resolution.
Prior to 1980, Guatemala and a dozen other countries maintained an embassy in Jerusalem. Israel's passage in June 1980 of a law proclaiming Jerusalem its "indivisible and eternal capital" led to a UN Security Council resolution calling on Guatemala and several other countries to move their embassies to Tel Aviv, prompting their transfer.
Morales said his decision to return the Guatemalan embassy to Jerusalem "strongly evidences Guatemala's continued support and solidarity with the people of Israel."
Morales, a former television comedian with an important base of conservative Christian support in the Central American country, became embroiled earlier this year in a dispute with the global body when a UN-backed anti-corruption body in Guatemala tried to impeach him.
Although Morales avoided impeachment, he failed in an attempt to expel the head of the body, the International Commission against Impunity in Guatemala, after criticism from the UN, the US and the EU.
Comments will be moderated. Keep comments relevant to the article. Remarks containing abusive and obscene language, personal attacks of any kind or promotion will be removed and the user banned. Final decision will be at the discretion of the Taipei Times.