Rallies against racism held in Italy
Marchers on Saturday protested racism in several Italian cities and warned against a revival of neo-fascist sentiment amid the campaign for Italy's March 4 national election.
In the central city of Macerata, where a week ago a far-right gunman with neo-Nazi sympathies wounded six African migrants in a drive-by shooting, there were fears the march could trigger violence.
Schools, shops and mass transit were shut down protectively for fear of clashes, but the march by several thousand people was peaceful.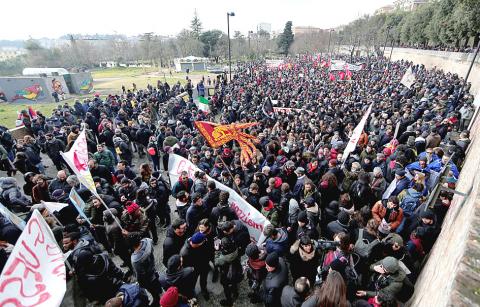 Demonstrators march in an anti-racism rally in Macerata, Italy, on Saturday.
Photo: Reuters
Anti-fascist, anti-racism marchers also turned out in Milan, Turin, Rome and Palermo, Sicily, among other cities.
In the small northern city of Piacenza some anti-fascism demonstrators hurled cobblestones at police and clashed with officers as they protested the opening of a local headquarters for a far-right political group, Sky TG24 TV and the ANSA news agency reported.
Italy's election campaign has been marked by rising tensions over the country's migrant population, which in the last few years has swelled by several hundred thousand people, many of them Africans. Most of them were rescued at sea from human traffickers' boats in the Mediterranean.
Surveys indicate that many Italians blame immigrants for violent crime, and leaders of a center-right campaign alliance, including former Italian prime minister Silvio Berlusconi and anti-migrant League leader Matteo Salvini, have pledged to quickly deport huge numbers of the migrants if they win power.
Salvini on Saturday hammered away at the migrants-bring-violent-crime motif.
ANSA quoted him as telling a campaign rally in northern Italy that he could not wait for an election victory "to start expelling all the illegals one by one, to defend, above all, the women, the girls" who allegedly fear sexual assault by migrants.
Comments will be moderated. Keep comments relevant to the article. Remarks containing abusive and obscene language, personal attacks of any kind or promotion will be removed and the user banned. Final decision will be at the discretion of the Taipei Times.