Jacob Zuma clings on despite uncertainty
EMBATTLED LEADER: The Nelson Mandela Foundation has called on the South African president to quit, saying he had 'demonstrated that he is not fit to govern'
South Africans were yesterday facing political uncertainty after the ruling African National Congress (ANC) canceled a meeting that could have removed embattled South African President Jacob Zuma from office.
Zuma is under growing pressure to resign in favor of his deputy and ANC leader Cyril Ramaphosa, but local media have suggested Zuma is holding on for a favorable exit deal.
South African Parliament Speaker Baleka Mbete yesterday told television broadcaster eNCA that Ramaphosa would soon give an update on the political turmoil.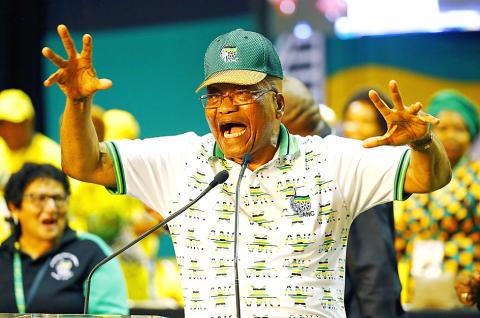 South African President Jacob Zuma gestures during the 54th African National Congress national conference in Johannesburg on Dec. 18 last year.
Photo: EPA
"We can't pre-empt what is going to happen and therefore we really still have to respect the fact that there are consultations between the two presidents," Mbete said.
Zuma and Ramaphosa have been holding talks in Cape Town about the president's future that they described on Tuesday as "constructive."
The announcement that the ANC's national executive, which has the power to recall the scandal-tainted president, would not meet yesterday followed Tuesday's dramatic cancelation of a key parliament speech by the president.
Zuma had been due to deliver the State of the Nation address, which was scheduled for today, and is the centerpiece of the political calendar, setting the government's priorities for the year ahead.
After opposition pressure for a delay, the president agreed to postpone it, apparently fearing it would be disrupted by opposition lawmakers calling for his resignation.
The delay heightened speculation that Zuma could finally yield to calls to step down.
Many ANC members are pushing for Ramaphosa, the new head of the party since December last year, to replace Zuma, 75, as president immediately, but Zuma loyalists have said that the serving president should complete his second and final term in office, which would end when elections are held next year.
"I can say to you that there are different views," ANC Deputy Secretary-General Jessie Duarte said on Tuesday.
Mbete told reporters that the State of the Nation address had been postponed because there was "little likelihood" that it would be held without disruption.
In previous years, opposition lawmakers have shouted Zuma down and been ejected from the chamber by security guards in a melee of flying fists.
"We thought that we needed to create room for establishing a much more conducive political atmosphere in parliament," Mbete added, saying a new date would be announced shortly.
Independent political analyst Ralph Mathekga said that Zuma's departure had been mishandled by the ANC.
"Unfortunately, the reality caught up with them, so now the ANC is trying to take control," Mathekga said. "The fact that they canceled Wednesday's ANC meeting probably means there is an agreement for him to go."
The power struggle has rocked the ANC, the storied liberation party which led the fight against white-minority rule, but has since lost much of its public support.
Despite the attacks on him, Zuma still enjoys some backing within the party, particularly among rural members and within his own Zulu community.
His presidency has been dominated by an economic slowdown, record unemployment and allegations of corruption.
He faces several court cases, including action relating to 783 payments he received allegedly linked to an arms deal before he came to power in 2009.
The Nelson Mandela Foundation has called for Zuma to go as he had "demonstrated that he is not fit to govern."
In a damning statement, it said there was "overwhelming evidence that systematic looting by patronage networks linked to President Zuma have betrayed the country Nelson Mandela dreamed of."
Ramaphosa is a former trade unionist who led talks to end apartheid in the early 1990s before becoming a multimillionaire businessman.
Comments will be moderated. Keep comments relevant to the article. Remarks containing abusive and obscene language, personal attacks of any kind or promotion will be removed and the user banned. Final decision will be at the discretion of the Taipei Times.