US says Syria still using chemical arms
'HIGHLY LIKELY': The efforts of two US presidents have failed to end reports of Syrian chemical weapons use. Chemical attacks have been reported as recently as Thursday
US President Donald Trump's administration on Thursday accused Syrian President Bashar al-Assad's government of producing and using "new kinds of weapons" to deliver deadly chemicals despite committing to abolish its program in 2013, and said the world must find a way to stop it.
Trump has not ruled out additional military action to deter attacks or punish al-Assad, US officials said, although they did not suggest that any action was imminent.
The US was seeking a new way to hold users of chemical weapons accountable and wanted cooperation from Russia, al-Assad's patron, in pressuring him to end the attacks, the officials said.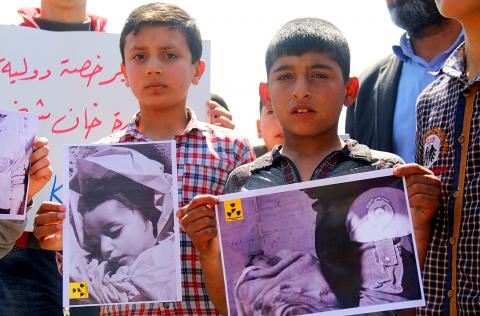 Syrian residents of Khan Sheikhun hold placards and pictures on April 7 last year during a protest condemning a suspected chemical weapons attack on their town.
Photo: AFP
It was "highly likely" al-Assad kept a hidden stockpile of chemical weapons after 2013 that he failed to properly disclose, they said, raising the alarm about the continued threat and adding that information gathered from recent alleged attacks also suggested that al-Assad retained a "continued production capacity" — also banned under the 2013 deal.
The officials said there were no indications that the Syrian government had developed new, deadlier chemicals.
However, al-Assad's forces are using the same chemicals — sarin and chlorine — but in more sophisticated ways, potentially to evade international accountability by making the origins of attacks harder to trace, they said.
Barrel bombs used earlier in the war to disperse chemicals indiscriminately, for example, have been replaced by ground-launched munitions, they said, adding that more recent attacks have involved both chlorine, which has nonchemical uses and is easier to acquire, and sarin, a more sophisticated chemical.
The officials were not authorized to speak on the record and briefed reporters on condition of anonymity.
Although evidence collection is different in the middle of a war zone, the US has a firm understanding of the extent of chemical use in Syria through a combination of intelligence, sample testing by third countries, and social media and other open-source information, they said.
al-Assad's government has denied using chemical weapons.
Years of efforts by two US presidents have failed to end the harrowing reports on chemical weapons use in Syria.
Under former US president Barack Obama, the US stopped short of striking al-Assad's forces in response, but brokered a deal with Russia to rid Syria of its stockpiles. After another alleged attack in April last year, Trump ordered a retaliatory missile strike.
However, 10 months later, the US and international observers say the weapons are still used.
Reports of chemical attacks have continued to stream in from Syria, including as recently as on Thursday, when rescue workers in the rebel-held Damascus suburb of Douma reported a suspected chlorine gas attack that injured a number of civilians.
Comments will be moderated. Keep comments relevant to the article. Remarks containing abusive and obscene language, personal attacks of any kind or promotion will be removed and the user banned. Final decision will be at the discretion of the Taipei Times.