Helicopter crash felt like 'earthquake,' residents say
A helicopter that crashed in Southern California, killing three people on board, did not send a distress call before plummeting into a home in a gated community, a federal investigator said on Wednesday.
The Robinson R44 helicopter was headed to Catalina Island when it went down in Newport Beach soon after taking off from nearby John Wayne Airport, US National Transportation Safety Board investigator Joshua Cawthra said.
The cause of the crash was unknown and could take months to determine.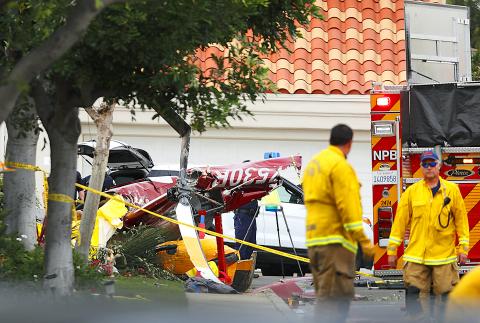 Police investigate the scene where three people died when a helicopter crashed into a home in Newport Beach, California, on Tuesday.
Photo: AP
After the crash, the helicopter's crushed metal sat in a heap on the side of the house, its tail rotor sticking out of the roof of a nearby home. A 2m chunk of the aircraft had landed in the street in front of another house.
Audrey Ellis that said her neighbors told her they were in the kitchen when the helicopter hit the bedroom of their house. They were not injured.
"All of a sudden the house just shook and I thought, 'Oh my gosh, we're having an earthquake,'" said Marian Michaels, another nearby resident.
The three people killed in the crash included the pilot and two passengers, Cawthra said.
They were identified as 60-year-old Joseph Tena of Newport Beach, 45-year-old Kim Watzman of Santa Monica and 56-year-old Brian Reichelt of Hollywood, Florida.
David Henry, who lives a couple of houses away from the crash site, said he heard the helicopter coming down and knew what it was because he crashed in three separate choppers when he served in Vietnam.
Henry was among those who initially tried to pull victims from the crash, but thought better of it.
"They were just jammed in there like sardines," Henry said. "We were pulling back the aluminum and we said: 'We'd have to pull them up out of there' and we could hear the paramedics coming."
"So we said, 'We're not going to touch them,'" he said. "We were afraid of hurting them worse."
Comments will be moderated. Keep comments relevant to the article. Remarks containing abusive and obscene language, personal attacks of any kind or promotion will be removed and the user banned. Final decision will be at the discretion of the Taipei Times.