NZ denies asylum offer led to surge in smuggling
'BACK DOOR': Jacinda Ardern rejected reports that her government's offer to take in 150 of Australia's asylum seekers has encouraged people smuggling activities
New Zealand Prime Minister Jacinda Ardern has quashed reports that her offer to take scores of asylum seekers from the Australian government has created a surge of people smuggling boats heading for New Zealand's shores.
A report yesterday in the Australian newspaper claimed that at least three boats intercepted in Australian waters recently were attempting to get to Australia via its "back door" — New Zealand.
The apparent increase in boats heading to New Zealand was allegedly in response to the government's offer to settle 150 of Australia's asylum seekers housed in off-shore detention centers such as Manus Island.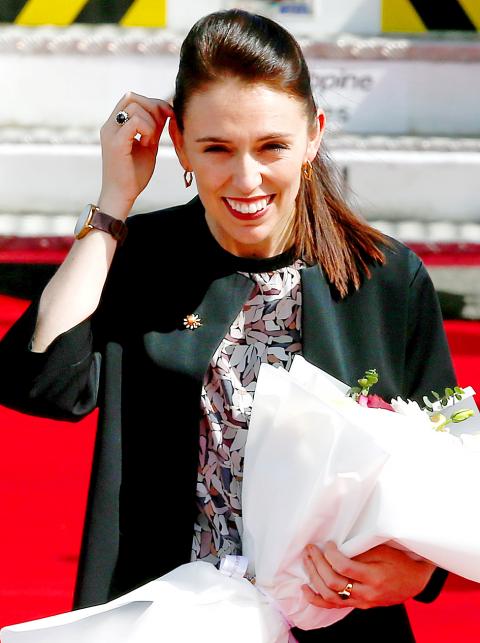 New Zealand Prime Minister Jacinda Ardern arrives at the Clark International Airport in Pampanga, Philippines, on Nov. 12.
Photo: EPA
The offer was first made to the Australian government by then-New Zeland prime minister John Key in 2013, and demonstrates no shift in refugee or immigration policy for either government.
Ardern yesterday condemned people smugglers as "parasites" who used "propaganda" to target vulnerable people for monetary gain, and said her government was working alongside Australia to tackle smugglers who were risking people's lives.
"I don't want to comment on specific intelligence briefings or reports, but what I am happy to say, as I have done before, is that chatter amongst people smugglers has ebbed and flowed for many, many years," she said.
"I am advised that none of the activity that we've seen in recent times is unusual," she added
New Zealand shadow foreign affairs spokesperson Gerry Brownlee said the prime minister should take more care with her remarks to Australia, as her "ill-advised interference" had caused a spike of interest in New Zealand and she had demonstrated a "disregard to the complexity of the problem."
In November, Ardern restated her offer when she visited Australia to speak with then-Australian prime minister Malcolm Turnbull.
During that visit Turnbull again rejected New Zealand's offer, saying his government was "not taking it up at this time."
However, he left the door open for a future agreement, saying the government would consider the deal once it had completed the ongoing transfer of refugees to the US.
Dozens of refugees held for years in Australia's remote Pacific detention camps yesterday departed for resettlement in the US, asylum seeker advocates said.
The Sydney-based Refugee Action Coalition said that 40 men flew out from Papua New Guinea's capital, Port Moresby, under a deal struck by Australia with former US president Barack Obama, but bitterly criticized by his successor, Donald Trump.
"It was a bitter-sweet moment for the refugees — who on the one hand, are happy to be gaining the freedom that Australia denied them more than four years ago; but on the other, they remain extremely concerned for those that are being left behind," the advocacy group said in a statement.
The refugees, from camps on Manus Island, flew to Manila, from where they will fly on to the US in different groups in the coming weeks before being resettled across the country, it said.
The group released photos showing the refugees lining up before dawn to get on buses for the airport, then waiting at the gate to board their flight to Manila.
Another 18 men were due to leave Port Moresby in the coming weeks, it said.
Australian and US immigration authorities did not immediately respond to a request for comment on the refugees' movements.
Comments will be moderated. Keep comments relevant to the article. Remarks containing abusive and obscene language, personal attacks of any kind or promotion will be removed and the user banned. Final decision will be at the discretion of the Taipei Times.