Istanbul bans play about dictator by Erdogan critic
Istanbul authorities on Friday banned a planned perfomance of a play about a dictator, invoking powers granted under Turkey's state of emergency imposed after a failed coup attempt against Turkish President Tayyip Erdogan.
Just a Dictator is an extended monologue delivered by the ruler of an unspecified country about his rise to power. As the dictator speaks, chants of angry protesters can be heard approaching his residence, but do little to intimidate him.
Authorities earlier this week started investigating theaters around the liberal district of Kadikoy, asking about the play, theater officials said.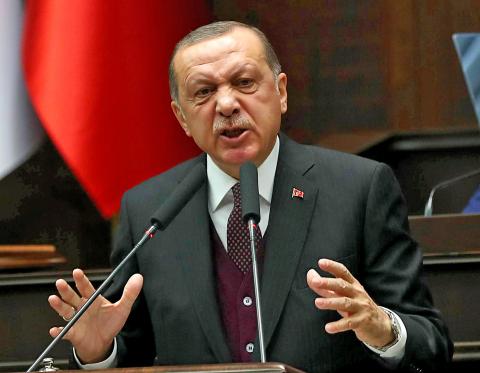 Turkish President Tayyip Erdogan delivers a speech during his party's group meeting at the Turkish parliament in Ankara on Jan. 9.
Photo: AFP
On Friday morning police notified the theater that staging the play in any open or enclosed space within Kadikoy was banned, citing a law established under the state of emergency declared after the coup attempt in July 2016.
"It has been evaluated that the play may affect public order and safety negatively, endanger security and well-being of the public, and disturb the environment of public peace and trust," said a copy of the notice posted on Twitter by the theater.
It said the play was banned emergency rule that means "any type of stage play [or] movie showing can be inspected and banned or stopped" to ensure public safety.
Human rights groups and Turkey's Western allies has said Erdogan has used the failed coup as an excuse to quash dissent and expressed concern about a referendum last year which granted him sweeping new powers.
The Turkish government has said that the crackdown and the executive presidency are needed to confront mounting threats to Turkey's security.
The play had previously been banned in three other provinces, theater members said.
While the only character on stage throughout the performance is the dictator, the criticism targets the audience for their inability to stand up to him.
Even though Friday's showing was canceled, the theater called on ticketholders and members of other theaters in Kadikoy to join them in solidarity at the scheduled performance time.
The only actor, Baris Atay, an outspoken critic of Erdogan's policies, promised that audiences they would eventually see the play.
"We have no expectations from a justice system that has turned into a toy in their hands, so we're not going to take this ban to court," he tweeted. "But we promise you that Just a Dictator will reach everyone. Very soon!"
Comments will be moderated. Keep comments relevant to the article. Remarks containing abusive and obscene language, personal attacks of any kind or promotion will be removed and the user banned. Final decision will be at the discretion of the Taipei Times.