India-Pakistan strain rises in Kashmir
DISPUTED TERRITORY: Pakistan urged India to respect the ceasefire and maintain peace, while India's foreign ministry decried what it said was a Pakistani violation
Tensions have soared along the volatile frontier between India and Pakistan in the disputed Himalayan region of Kashmir, as rival troops shelled villages and border posts for a third day on Friday last week.
Three civilians and two soldiers were killed on both sides in the latest clash, officials in the two countries said, as each blamed the other for initiating the violence.
Indian officials said two civilians, an army soldier and a paramilitary soldier died and at least 24 civilians and two soldiers were injured in Indian-controlled Kashmir.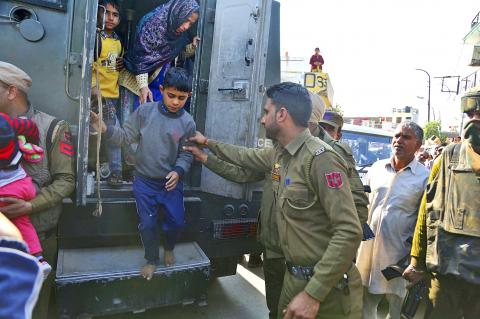 Indian policemen rescues civilian villagers following shelling from the Pakistani side of the border, in the Ranbir Singh Pura district of Jammu & Kashmir, India, on Friday.
Photo: AP
According to Pakistani officials, Indian fire on Friday killed a civilian and wounded nine others in Sialkot in Pakistan's eastern Punjab Province.
An Indian paramilitary officer said soldiers were responding to Pakistani firing and shelling on dozens of border posts and called it an "unprovoked" violation of a 2003 ceasefire accord.
Angered over the rising violence, Pakistan's Foreign Ministry summoned Indian Deputy High Commissioner J.P. Singh and condemned what it called "unprovoked ceasefire violations" by India.
Each country has also accused the other of initiating past border skirmishes and causing civilian and military casualties.
The fighting is taking place along a somewhat-defined frontier where each country has a separate paramilitary border force guarding the lower-altitude 200km boundary separating Indian-controlled Kashmir and the Pakistani province of Punjab.
The contentious frontier also includes a 740km rugged and mountainous stretch called the "Line of Control" that is guarded by the armies of India and Pakistan.
The Indian officer, speaking on condition of anonymity in keeping with official policy, said Friday's shelling came after relative calm overnight in Jammu following two days of fighting that left at least three civilians and a soldier dead and several others wounded on both sides.
The border guard official said that by Friday evening fighting had stopped in most places, but continued at about half a dozen outposts.
The fighting escalated late on Friday in Sunderbani sector, where Indian and Pakistani soldiers fired guns and mortars at each other's positions.
One soldier was killed in the Pakistani firing, Indian army spokesman Colonel Nitin Joshi said.
Shells have landed in dozens of villages since early on Friday, Indian police officer S.D. Singh said, adding that authorities deployed bulletproof vehicles to evacuate people who were injured and sick.
Dozens of schools in villages along the frontier have been closed and authorities advised residents to stay indoors as shells and bullets rained down.
Some damage to houses was also reported on the Indian side.
Pakistan urged India to respect the ceasefire and maintain peace on the frontier. It also asked India to allow the UN Military Observer Group in India and Pakistan to play its mandated role in accordance with Security Council resolutions.
India's foreign ministry said that it condemned what it called "continued and unprecedented ceasefire violation by Pakistan, which has caused loss of lives and properties."
Comments will be moderated. Keep comments relevant to the article. Remarks containing abusive and obscene language, personal attacks of any kind or promotion will be removed and the user banned. Final decision will be at the discretion of the Taipei Times.