Kuczynski pardons ailing Fujimori, 79
PERUVIAN DEALINGS: The president last week survived impeachment by a Congress dominated by Fujimori supporters, leading to speculation that the pardon won votes
Peruvian President Pedro Pablo Kuczynski on Sunday night announced that he granted a medical pardon to former president Alberto Fujimori, who was serving a 25-year jail sentence for human rights abuses, corruption and the sanctioning of death squads.
Kuczynski released a statement saying he decided to free Fujimori for "humanitarian reasons," citing doctors who had determined that the ex-leader suffers from incurable and degenerative problems.
The 79-year-old Fujimori, who governed from 1990 to 2000, is a polarizing figure in Peru. Some laud him for defeating the Maoist Shining Path guerrilla movement, while others loathe him for human rights violations carried out under his government and some human rights groups quickly criticized the pardon.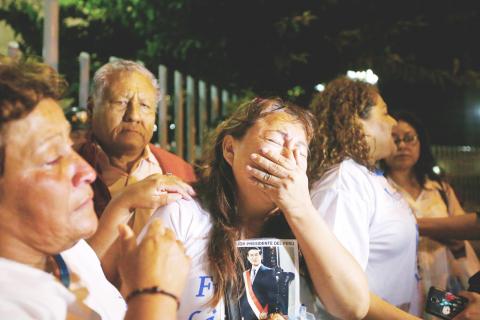 People celebrate on Sunday in Lima after Peruvian President Pedro Pablo Kuczynski pardoned former Peruvian president Alberto Fujimori.
Photo: Reuters
His daughter, Keiko Fujimori, narrowly lost Peru's last presidential election to Kuczynski, and her party dominates Congress. Her party this month mounted an attempt to oust Kuczynski over business ties to the Brazilian construction company Odebrecht, which is at the center of a huge Latin American corruption scandal, but the president survived the impeachment vote on Thursday.
Critics of Alberto Fujimori again raised speculation that Kuczynski agreed to pardon the former leader in return for some opposition lawmakers not supporting his impeachment.
Alberto Fujimori filed a request seeking a medical pardon more than a year ago, citing deteriorating health.
He has said on Twitter that he suffers from arrhythmia, for which he has been hospitalized several times this year. He on Sunday night remained at a clinic, where he was taken from prison a day earlier after suffering a drop in blood pressure.
Keiko Fujimori and one of her brothers, Kenji, visited the clinic on Sunday night. The brother later tweeted that their father would remain hospitalized a few days more.
Supporters of the former leader gathered outside the clinic to celebrate his pardon.
"He was a brave man, the best Peruvian president of all time," Juana Lopez said.
A few dozen opponents of Alberto Fujimori demonstrated a few blocks from the presidential palace. Some protesters chanted "Kuczynski traitor" and "Killer Fujimori" while carrying posters with photographs of those slain during his decade in power.
Human Rights Watch executive director Jose Miguel Vivanco said on Twitter that the pardon "was a vulgar political negotiation in exchange for Kuczynski's stay in power."
Amnesty International demanded that Kuczynski "clarify the doubts about the lack of transparency and respect for due process."
Pontifical Catholic University of Peru political science professor Eduardo Dargent predicted that the president's decision would prove to be "his worst mistake."
Peruvian law provides that no person convicted of murder or kidnapping can receive a presidential pardon except in the case of a terminal illness. Three previous requests from Alberto Fujimori for pardons were rejected after doctors said he did not suffer from incurable illness or severe mental disorder.
Fujimori would have been in prison until age 93 if he had severed his full sentence.
He was first convicted in 2009 and sentenced to 25 years in prison for his role in the killings of 25 people, including an eight-year-old boy, during his administration and later drew four more convictions.
Comments will be moderated. Keep comments relevant to the article. Remarks containing abusive and obscene language, personal attacks of any kind or promotion will be removed and the user banned. Final decision will be at the discretion of the Taipei Times.