Caracas moves to expel two nations' diplomats
Officials in Venezuela on Saturday took the first step toward expelling top diplomats from Brazil and Canada who have been accused of meddling in the country's politics.
Venezuelan National Constituent Assembly President Delcy Rodriguez declared both Brazil's ambassador and Canada's charge d'affaires as persona non grata, a move which does away with their diplomatic credentials.
Officials from both countries and the US have been increasing critical of Venezuelan President Nicolas Maduro's government for consolidating power and isolating the country's opposition parties ahead of next year's presidential elections.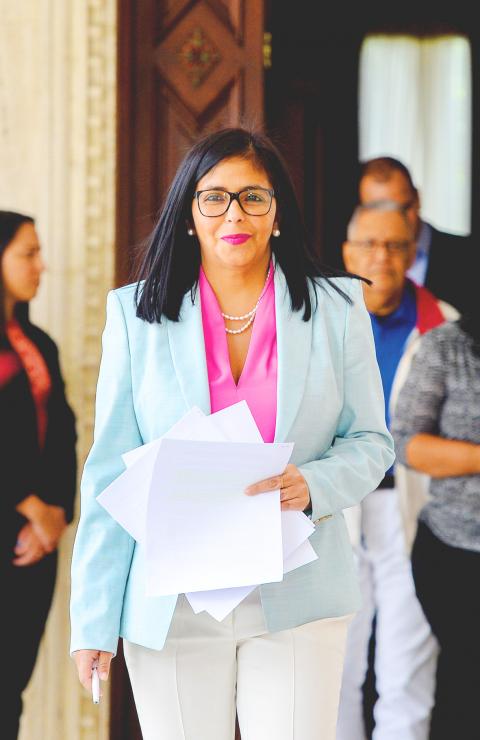 Venezuelan National Constituent Assembly President Delcy Rodriguez heads for a news conference at the Ministry of Foreign Affaris in Caracas on Saturday.
Photo: AFP
The Brazilian Ministry of Foreign Affairs said in a tweet that it intends to respond with equal force.
The Brazilian government had not yet received official notification from Venezuela.
"If confirmed, this decision demonstrates, once again, the authoritarian nature of the Nicolas Maduro administration and its lack of willingness to engage in any type of dialogue," Brazilian officials said.
Venezuela drew international condemnation on Wednesday, when its pro-government constitutional assembly effectively stripped three of the country's most influential opposition parties of the right to participate in next year's presidential election.
It followed a threat by Maduro to punish the opposition groups for boycotting recent mayoral elections, protesting what they considered an unfair, rigged system run by a dictatorship.
The constituent assembly passed a decree requiring the parties to reapply for legal status.
It comes ahead of presidential elections next year, when Maduro is expected to seek a second term.
Rodriguez targeted Brazilian Ambassador Ruy Pereira and Canadian charge d'affaires Craig Kowalik.
She accused Kowalik for a history of tweeting "rude and vulgar" comments about Venezuela.
Canadian officials said in a statement that they have met with the UN secretary-general and the country's international partners to discuss a strategy for restoring order in Venezuela.
"Canadians will not stand by silently as the government of Venezuela robs its people of their fundamental democratic and human rights, and denies them access to basic humanitarian needs," Global Affairs Canada spokeswoman Natasha Nystrom said. "Our resolve remains unchanged."
The move to send home the two diplomats comes shortly after Caracas sparred with US envoy Todd Robinson, who arrived days before Venezuela's measure blocking the opposition parties.
The US embassy in Caracas strongly rebuked the assembly's latest decree.
"The Venezuelan government and its illegitimate National Constituent Assembly are inventing rules as they go," the US embassy said in a tweet. "This is not democracy. Differing political views make strong democracies."
Comments will be moderated. Keep comments relevant to the article. Remarks containing abusive and obscene language, personal attacks of any kind or promotion will be removed and the user banned. Final decision will be at the discretion of the Taipei Times.