Sixteen hurt fleeing false terror alert in London
Police on Friday rushed to London's busy Oxford Street shopping district after reports that shots had been fired, sparking fears of a terror incident and leaving 16 people hurt in the panic.
Armed officers locked down the area for more than an hour before the Metropolitan Police said it had not found "any trace of any suspects, evidence of shots fired or casualties."
British Transport Police said they believed the security scare started with "an altercation between two men" on the platform of Oxford Circus Underground station.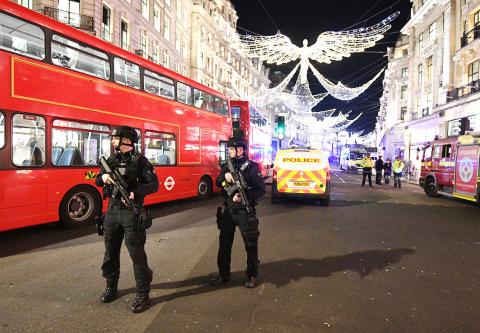 Police officers on Friday stand guard near the Oxford Circus Tube station in central London after reports of gunfire that police treated as a terror-related incident.
Photo: EPA-EFE
They released CCTV images of the two men and appealed to the public for any information about the incident or what might have caused people to start fleeing the station.
The area was packed with shoppers seeking Black Friday bargains and several people were injured fleeing the scene, including nine who were taken to hospital, London's Ambulance Service said.
"We checked over and treated several patients who sustained injuries while leaving the Oxford Circus area," it said. "We discharged seven patients at the scene and took eight patients to two central London hospital for minor injuries. We also took one patient to a major trauma center for leg injuries."
Police initially said they were responding to reports of gunfire "as if the incident is terrorist-related" and urged any shoppers to shelter in shops for safety.
Crowds ran from the scene, reflecting the nervousness in a country that has sustained five terror attacks since March.
However, police later said they found no evidence of any incident, and tweeted: "Our response on #OxfordStreet has now been stood down."
"If you sought shelter in a building please now leave, and follow the direction of police officers on the ground if you need assistance," it tweeted.
Oxford Circus, the junction of London's Oxford Street and Regent Street, is one of the busiest areas in London, particularly around the tube station, where the entrance is regularly closed at rush hour in a bid to control the crowds.
Ahlam Ibrahim told reporters she was pushed into a shop when people started shouting.
"We didn't know what was going on, it was really a nightmare," she said.
Oxford Circus station was later reopened, as was nearby Bond Street, which had been closed for fear of overcrowding. Trains were stopping at both.
In the first statement, police said they were called at 4:38pm "to a number of reports of shots fired on Oxford Street and underground at Oxford Circus tube station... Police have responded as if the incident is terrorist-related."
They later said there were "numerous 999 [emergency] calls" reporting shots fired in a number of locations in the area.
British security forces are on high alert after a string of attacks this year which have left scores of people dead.
The most recent involved a bomb on a packed London Underground train in southwest London in September, which injured 30 people. A teenager is facing trial for attempted murder.
Comments will be moderated. Keep comments relevant to the article. Remarks containing abusive and obscene language, personal attacks of any kind or promotion will be removed and the user banned. Final decision will be at the discretion of the Taipei Times.