Putin, al-Assad meet prior to Turkey-Iran-Russia talk
Russian President Vladimir Putin on Monday met with embattled Syrian counterpart Bashar al-Assad in Sochi ahead of talks today with leaders from Turkey and Iran aimed at rebooting the peace process in the conflict-torn country.
The Kremlin said Monday's meeting in the Black Sea resort came during a "working visit" by al-Assad to Russia.
Putin praised al-Assad for "fighting terrorism," which he predicted would suffer an "inevitable" defeat in Syria, the Kremlin said.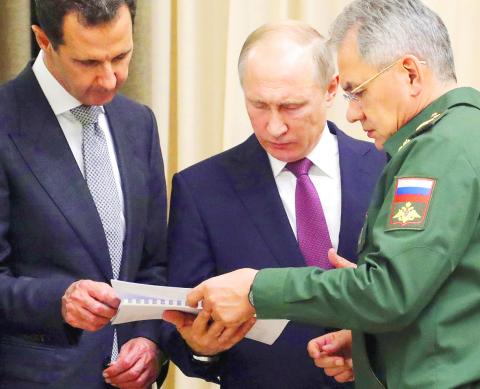 From left, Syrian President Bashar al-Assad, Russian President Vladimir Putin and Russian Minister of Defense Sergei Shoigu look at a document during a meeting in the Bocharov Ruchei residence in Sochi on Monday.
Photo: AP / Kremlin Pool
"It is in our interest to advance the political process... we don't want to look back and we are ready for dialogue with all those who want to come up with a political settlement," al-Assad said in translated comments.
Putin said he would "consult" world leaders, including US President Donald Trump, on his talks with al-Assad, and the Kremlin said his telephone call with Trump would take place yesterday.
Putin is to host Turkey's Recep Tayyip Erdogan and Iran's Hassan Rouhani in Sochi today ahead of parallel UN-led talks in Geneva set for Tuesday next week.
The cooperation between Ankara, Moscow and Tehran comes despite Turkey still officially being on an opposite side of the Syria conflict from Russia and Iran, which are key al-Assad backers.
Turkey has supported rebels seeking al-Assad's ouster, but has muted its criticism of the Syrian regime.
"The open-war phase in the Syria conflict will soon be over and the question of a political solution will become more pressing than before," Russian political analyst Azhdar Kurtov said. "Russia, Iran and Turkey each have their own interest in Syria. It is clear that they also have disagreements. And they are meeting to try to smooth over these disagreements."
The three countries have backed negotiations in the Kazakh capital, Astana, that have brought together the representatives of the opposition and the regime seven times this year.
Different factions of the Syrian opposition will meet from today in Riyadh in talks hosted by Saudi Arabia with the aim of reaching consensus on a strategy for talks in Geneva, which will focus on a new constitution for Syria and fresh elections.
Comments will be moderated. Keep comments relevant to the article. Remarks containing abusive and obscene language, personal attacks of any kind or promotion will be removed and the user banned. Final decision will be at the discretion of the Taipei Times.