Chinese lawyer gets two years for inciting subversion
A Chinese court yesterday jailed a prominent rights lawyer for two years, saying he incited subversion of state power, the most recent such verdict in a sweeping crackdown on activism.
Jiang Tianyong (江天勇), 46, developed notions of overthrowing China's political system after being influenced by training workshops held by "anti-China foreign forces" overseas, the court in Changsha City said.
He used social media to "attack or defame" government departments and incited others to gather and demonstrate in public, the Changsha Intermediate People's Court said on its microblog.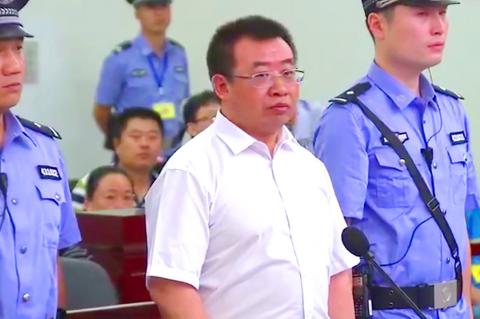 A handout file video frame grab taken and released by the Changsha Intermediate People's Court on Aug. 22 shows Chinese rights lawyer Jiang Tianyong, center, appearing in court in Changsha, China.
Photo: AFP/Changsha Intermediate People's Court
Jiang's wife, Jin Bianling (金變玲), called the verdict "unacceptable," adding that she believed he was being made an example of, to deter or repress other rights lawyers.
"I do not acknowledge or accept this verdict," she said in a telephone interview from the US, where she lives. "Jiang Tianyong is innocent."
Jiang's family was unable to appoint their own lawyers, Jin said, and she had been unable to contact him in detention.
In Geneva, Switzerland, the UN human rights office, which has denounced China's crackdown on defence lawyers since 2015, called for his release.
"We urge the Chinese authorities to release Jiang Tianyong as well as lawyer Wang Quanzhang (王全璋), and other lawyers and activists who have remained in detention since August 2015," UN human rights spokesman Rupert Colville said.
The verdict came exactly a year after Jiang disappeared in November last year while visiting the family of another detained rights lawyer. He was held incommunicado for six months before being formally charged.
There were "serious concerns regarding the lawfulness of the legal proceedings," German Ambassador to China Michael Clauss said, including the denial of access to lawyers of Jiang's choice.
"The circumstances and the lack of regard for the rights of the defendant certainly call into question the fairness of the verdict," Clauss said in a statement.
Jiang, who was disbarred in 2009 after taking on sensitive cases, such as defending practitioners of the banned Falun Gong movement, had been an outspoken critic of the government crackdown on dissent.
Since mid-2015, hundreds of rights lawyers and activists have been sentenced or detained, drawing condemnation from foreign governments and international rights groups.
Yesterday's ruling broadly followed the facts in Jiang's confession at his trial in August, when the court released video images of him reading parts of a written statement.
Rights group Amnesty International called Jiang's conviction "baseless" and his trial a "total sham."
"His so-called confession and apology, most likely extracted under duress, were nothing more than an act of political theater directed by the authorities," said William Nee (倪偉平), a China researcher at Amnesty.
Comments will be moderated. Keep comments relevant to the article. Remarks containing abusive and obscene language, personal attacks of any kind or promotion will be removed and the user banned. Final decision will be at the discretion of the Taipei Times.