Beirut runners race for missing leader
WAITING FOR PM: One week after Saad al-Hariri's speech from Saudi Arabia saying he was resigning, Lebanese are demanding that the Saudis allow him to return home
Participants in Beirut's annual marathon usually run to support medical research or human rights, but this year, Lebanese racers have opted for another cause: their missing prime minister.
Lebanese Prime Minister Saad al-Hariri has yet to return to Lebanon since his shock resignation in a televised announcement from Saudi Arabia eight days ago.
Rumors have since swirled that he is being held in Riyadh against his will — and energetic Lebanese literally raced to show him support yesterday morning.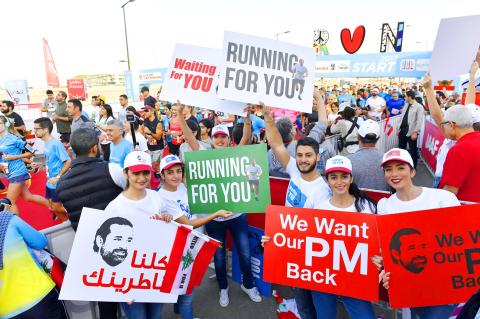 Young Lebanese hold placards demanding the return of Lebanese Prime Minister Saad al-Hariri from Saudi Arabia during the annual Beirut International Marathon yesterday morning that drew thousands of participants from Lebanon, elsewhere in the Middle East and Europe.
Photo: EPA-EFE
A bright red billboard welcomed runners to the marathon's starting line in downtown Beirut with a picture of a sprinting al-Hariri and the Arabic caption: "We are all waiting for you."
Young men and women distributed water bottles labeled with the same slogan, as well as caps and T-shirts that read, "Running for you."
"I needed a cap and I like Lebanon, so I took a hat," said 30-year-old Nisrine Chamseddine, who had just completed an 8km race.
Online, supporters tweeted pictures from the event with the Arabic hashtags "Run for Saad" and "Saad's coming back."
Al-Hariri — who enjoys exercise, according to close friends — has taken part in the Beirut marathon in previous years.
However, tens of thousands of runners gathered yesterday for the 15th year of the annual race without their prime minister.
Lebanese President Michel Aoun had urged participants to run for "the return of prime minister Saad [al-]Hariri to Lebanon."
"May the Beirut Marathon tomorrow be a national, athletic demonstration of solidarity with PM Hariri and with his return to his country," Aoun said on Saturday, according to a statement by his office.
He also called on Riyadh to "clarify the reasons that have prevented the return of PM Hariri to Lebanon to be among his people and supporters."
Aoun has yet to formally accept Hariri's resignation and has criticized the circumstances surrounding it as "unacceptable."
In his shock announcement, al-Hariri accused Iran and its Lebanese ally Hezbollah of taking over his nation and destabilizing the broader region, saying he feared for his life.
However, his subsequent week-long absence from Lebanon has sparked concerns that al-Hariri, who also holds Saudi nationality — is under de facto house arrest in the kingdom.
Hezbollah chief Hassan Nasrallah on Friday said that al-Hariri was "detained in Saudi Arabia, he is banned from returning to Lebanon."
A senior Lebanese official said Aoun had told foreign ambassadors that al-Hariri had been "kidnapped" and should benefit from immunity.
Lebanese authorities believe Riyadh is detaining al-Hariri, two top Lebanese government officials, a senior politician close to al-Hariri and a fourth source have said.
French President Emmanuel Macron, who made an unscheduled visit to Riyadh this week, telephoned Aoun on Saturday to discuss the crisis. A French official had made comments suggesting Paris believed al-Hariri may not be a free man.
Riyadh says al-Hariri is free and decided to resign because Hezbollah was calling the shots in his coalition government.
Hariri, whose family made its fortune in the Saudi construction industry, has also given no sign of when he might return to Beirut.
The Lebanese prime minister took part in a ceremony in Riyadh on Saturday welcoming Saudi King Salman from Medina, and met with the Turkish and British ambassadors at his Riyadh home in the afternoon, his media office said.
Sources close to al-Hariri say Saudi Arabia has concluded that he had to go because he was unwilling to confront Hezbollah.
Additional reporting by Reuters
Comments will be moderated. Keep comments relevant to the article. Remarks containing abusive and obscene language, personal attacks of any kind or promotion will be removed and the user banned. Final decision will be at the discretion of the Taipei Times.