Spacey assaulted my son: ex-TV anchor
'SHAME ON YOU': Ex-Boston news anchor Heather Unruh first tweeted about the alleged sexual assault on Oct. 13, but did not say at the time that it was her teen son
A former Boston TV news anchor on Wednesday said that Kevin Spacey sexually assaulted her teenage son last year at a Nantucket restaurant, adding to mounting allegations of misconduct against the House of Cards actor.
Heather Unruh previously alleged via Twitter on Oct. 13 that Spacey had "assaulted a loved one," but had not previously identified that person as her son.
Unruh said her son, who was 18 at the time, was "star struck" during a chance encounter with Spacey at Club Car Restaurant's crowded bar in July last year.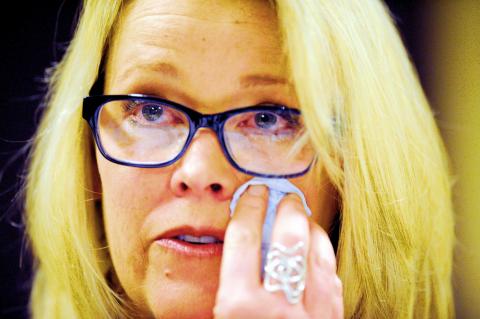 Former Boston news anchor Heather Unruh speaks at a press conference in Boston on Wednesday during which she accused actor Kevin Spacey of sexually abusing her son in July last year at a restaurant on Nantucket Island.
Photo: AFP
Unruh said Spacey bought her son "drink after drink" and then stuck his hand down the drunk teen's pants and grabbed his genitals.
She said her son panicked and froze while Spacey insisted he come with him to a private after-hours party to drink with him more.
Spacey ultimately left to use the bathroom and the teen ran away at the urging of a nearby woman who could tell he was shaken, Unruh said.
Unruh's son ran back to his grandmother's house, woke up his sister and called his mother, who joined them in Nantucket the next day, she said.
Unruh said her son did not report the assault at the time because he was embarrassed and scared.
Her family was emboldened to come forward now that others have gone public with allegations of sexual misconduct against Spacey and other celebrities, she said.
"To Kevin Spacey, I want to say this: Shame on you for what you did to my son," Unruh said, flanked by her daughter and lawyer Mitchell Garabedian, who has represented hundreds of clergy sexual abuse victims.
A lawyer for Spacey did not immediately respond to an e-mail seeking comment.
A publicist last week said that Spacey is "taking the time necessary to seek evaluation and treatment."
Unruh said her son teen filed a report with police last week, and she said a criminal investigation has begun.
She said her son has turned over evidence to authorities, but her attorney said that they could not elaborate on what he provided.
Nantucket Police Chief Bill Pittman said Massachusetts law does not allow them to confirm or deny a report of sexual assault.
Cape & Islands Assistant District Attorney Tara Miltimore said a person has provided information to police about an "indecent assault and battery," and that authorities are waiting to hear from the person's attorney.
Garabedian said he is conducting his own investigation and did not say whether they intend to file civil action against Spacey.
Unruh said her son continues to struggle with the emotional effects of the encounter.
The teen, who was not named during the press conference, asked her to speak publicly on his behalf, she said.
"He's committed to doing what he can to stop Kevin Spacey from victimizing anyone else," Unruh said.
Additional reporting by AFP
Comments will be moderated. Keep comments relevant to the article. Remarks containing abusive and obscene language, personal attacks of any kind or promotion will be removed and the user banned. Final decision will be at the discretion of the Taipei Times.